College Placement Exams for Undergraduates at Peirce College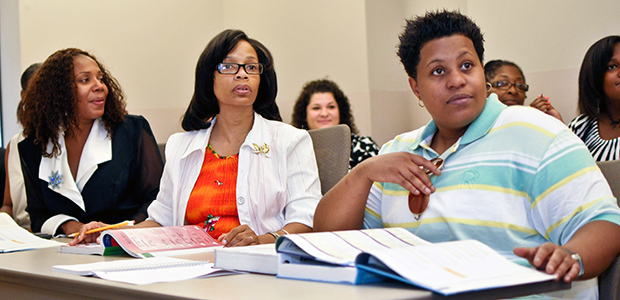 What Are College Placement Exams and Who Takes Them?
College placement exams for undergraduate students are used by Peirce College to assess the math and English skills of admitted students and to place them in the appropriate level courses. Students who apply to Peirce without transfer credit (or a grade of C or above) in English 101 and/or college-level math are required to take these placement exams. The placement tests are typically administered on a computer; however, a paper and pencil version of the math assessment and special accommodations are available for disabled students.
If you have taken the SAT or ACT standardized tests, you should speak to an Admissions Counselor about possibly using those scores instead of taking our college placement exams.
How Do I Get Started?
Your admissions representative will guide you through the placement exam process. After you've completed your college application, you'll receive a confirmation from the Admissions Office that you are registered to take the Math Placement Test as well as an email with the English essay template. You'll need a Peirce Portal account to complete the placement exams. You can request a username and password from your admissions representative, or you can create them yourself by following the instructions below.
In order to create your own account, follow these steps:
Go to https://my.peirce.edu
Complete the New User Registration (found on the Help tab)
Input your information:
Student ID # (provided by your enrollment representative.)
Date of birth
Social Security number
Your account registration is then complete and you are ready to begin your placement exams.
Taking the Math Placement Test
To access your Math Placement Test, follow these steps:
Sign in using your recently created account information
Click on the New Students tab
Click on Access Classes Online (this will open a new internet browser window)
Click on the Courses tab
Click MPT Math Test
All questions on the Math Placement Test are multiple-choice. Students will have a maximum of one hour to complete the math assessment. Be sure to click Save Answers as you go along. When you have completed the assessment, click Submit.
Completing the English Placement Exam Essay
Students will compose an original essay and submit it as a Microsoft Word document. Students should contact their admissions counselor to discuss the essay writing and submission procedure. Once you complete the English essay, be sure to save the essay as a Word document and submit to your Admissions Counselor.
Testing Hours
Call or email the Admissions Office to schedule a time to take our placement exams on campus. You can reach the Admissions Office at 1.888.467.3472, ext. 9214 or email
info@peirce.edu
.
What Happens After I Take the Placement Exams?
After your college placement exams have been scored, you'll be guided by your Admissions Counselor to select your courses. Students who score below 73% on the assessment(s) are required to take English 010 and/or Math 010 (these are semester-length remedial courses).
Students who readmit to the College without transfer credit or who have not successfully completed English 101 and/or college-level math must adhere to this policy.
ENG 010 and MAT 010 do not count toward any degree program. ENG 010 and/or MAT 010 serve as required prerequisite courses for students within the Developmental Education Program.
Information for Students with Disabilities
In our commitment to ensuring that no otherwise qualified student with a disability is subjected to unlawful discrimination in the context of his/her educational experience, Peirce College makes certain that students with disabilities are provided equal access to educational and career development programs and/or student activities. Consequently, the College will make, on behalf of qualified students with learning and physical disabilities of which the College is aware, reasonable accommodations that do not impose undue hardships on the College.
If a student believes he/she requires a reasonable accommodation or has a question regarding educational services, activities, programs or facilities that are accessible to or usable by students with disabilities, please contact the Facilitator, Perkins Grant & Student Disability Services Coordinator in the Mary W. Walker '33 Center for Academic Excellence, 2nd Floor Alumni Hall (215-670-9251). All information associated with a disclosure of this nature is confidential, and the College will communicate this information to others only on a need-to-know basis.
Have More Questions About Our College Placement Exams?
If you have more questions regarding placement exams, contact the Admissions Office at 1.888.467.3472, ext. 9000 or email info@peirce.edu.