Peirce College Alumni Association | Student Alumni Association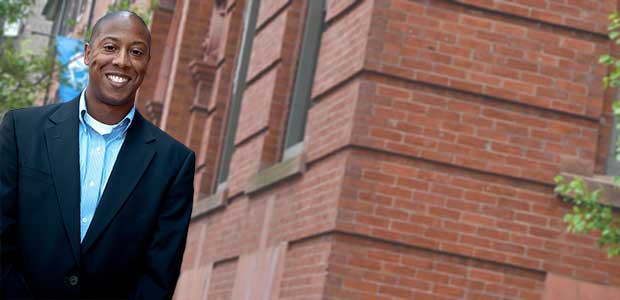 A Note from Reggie Waller, President, Alumni Association
Hello! I am especially proud to lead our Peirce College Alumni Association at this important time in Peirce's history. Not only are we celebrating our 150th anniversary, but we have also launched a new, visionary strategic plan that will better position Peirce to provide students with the skills necessary to succeed in the workforce. Peirce College has sustained itself throughout its long history by focusing on the needs of its students, recognizing the importance of higher education, adapting to economic and social changes, and embracing innovative solutions.
I look forward to collaborating with the Alumni Association Board of Directors and with all of our graduates to support this vision, which has been at the very heart of Peirce's work throughout the last 150 years. Together, we will build alumni programs and services that are meaningful and relevant. In turn, the College asks alumni for contributions of time, talent and treasure to fulfill our mission and help our students achieve and succeed in the workplace.
Please let me know if you have any thoughts or ideas about how we can strengthen the Alumni Association, better support our students, and increase the impact of Peirce in your personal and professional networks. Best wishes and thank you for your continued support.
Sincerely,
Reggie Waller '04
alumni@peirce.edu
---
The Peirce College Alumni Association keeps its members connected to the College through benefits, services, events and learning opportunities.
The Board of Directors is the Alumni Association's governing body and works with the College's administration to develop the relationship alumni have with one another and with the College. The Board is led by a president, vice President and secretary. Board members can serve up to two (2) consecutive two-year terms in the Alumni Association; elections are held annually in the spring.
Student Alumni Association programs include:
Admissions programs involve alumni in identifying and recruiting potential students, sharing information about and communicating enthusiasm for their Peirce experience within the communities where they live and work.
Career Development Services assists alumni and current students with career guidance, networking, mentorship and accessing work opportunities.
Outreach opportunities take advantage of print, electronic and social media to give Peirce alumni the information they need to be better connected to their fellow alumni and to the College.
Chapters will promote connections among alumni through the lens of the academic program in which they participated, professional area in which they work, geographic area in which they live or other related affinities like Greek affiliation, athletics or social activity.
Awards will be presented by the Alumni Association to individuals whose service to the College and community reflect the very best qualities gained through their Peirce education.