Employer Partnerships and Collaborations at Peirce College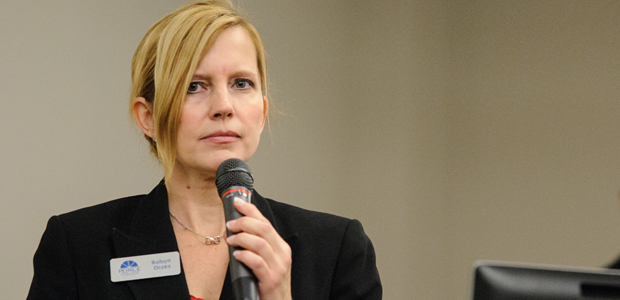 Employer Partnerships That Meet Your Business Needs
You want employees with hands-on experience and top-notch training. You want Peirce College graduates.
Employer partnerships formed through our Career Development Services team make sure our students are ready to hit the ground running for you. Peirce College develops partnerships with local and regional employers to help those organizations meet their workforce needs. We specialize in career-focused higher education, preparing our students for day one in the field. Partner with Peirce to take advantage of our services and connect with our successful students and alumni through various programs. We also offer benefit packages to our Corporate Partners – find out how your employees can receive tuition discounts while learning skills that will benefit your business.
We welcome the opportunity to speak with you to learn about your talent needs, available roles and opportunities for partnership. For more information on employer partnerships and collaborations, please contact us at cds@peirce.edu or call us at 888.467-3472, x9202.
Career Development Services for Employers
Peircelink
Peirce's free online job board, Peircelink, lets you post job openings, review student resumes and schedule interviews. Start by reviewing our Posting Policies , then set up your account. Your information will be reviewed within 48 business hours, and you'll be contacted once you're approved.
On-Campus Recruitment (OCR)
On-campus recruitment sessions are an ideal way to present your career opportunities to Peirce students and alumni. OCR sessions are free for employers with a Peircelink account.
Experiential Opportunities - Internships and/or Cooperative Work (CO-OP)
We work closely with employers to develop Co-op programs and source candidates that will meet your needs. We oversee the process and necessary documentation so you can focus on the benefits of having a temporary addition to staff.
Peirce does not offer credit-bearing internships but our students and alumni gain valuable resume-building experience from paid and unpaid internships. If you are interested in recruiting candidates, please post your internship roles in PeirceLink.
Work Study
If you are a non-profit organization that meets the Federal Work Study Program guidelines as well as Peirce's requirements, we may be able to partner with you and collaborate to fill Work Study opportunities at your site.
Employer Advisory Board (EAB)
Become an EAB Member! We work closely with employers to develop career-based programs, events and activities. Their industry insight helps us enhance the marketability of our students and alumni. EAB members are also invited to participate in select CDS and Peirce VIP events.
The Board also assists with the development of new CDS initiatives and programs including the Student Leadership Program and the CDS Mentoring Program. Membership consists of employers who have a desire and capacity to share role and industry knowledge, Peirce CDS team members, students and alumni.
Engagement with CDS
Peirce Career Development Services hosts workshops and events that are highly career-related and provide access to industry experts. We provide employers with opportunities to co-facilitate career-based workshops, be a featured speaker, or sponsor a student/alumni tour of their facility.
For more information on any of these Peirce College collaborations and opportunities, contact our CDS Office at 888.467.3472, ext. 9202.