Integrated Leadership Degree | Online Leadership Degree | Peirce College
Tuesday, May 6, 2014 12:48:00 PM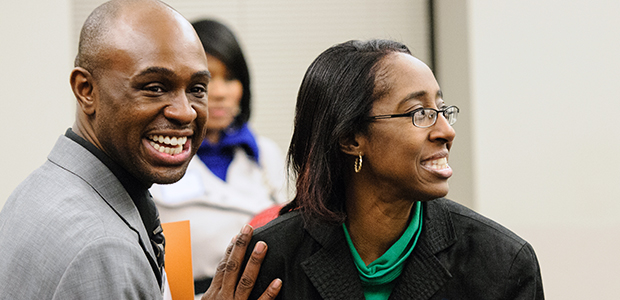 Your Degree in Integrated Leadership
Peirce's degree completion program helps you earn a degree faster by putting the time you already spent in college to work. Have at least 45 credits from college-level courses under your belt? You're well on your way to earning a Bachelor's of Science degree in Integrated Leadership.
With a degree in Integrated Leadership, you'll be ready to lead teams and make sound decisions. This leadership degree allows you to build the knowledge and skills that'll lead to opportunities in a variety of businesses and industries. Our program focuses on ethics, effective communications and the dynamic development of organizations.
All of our degree completion programs have accelerated classes and six sessions per year, so you can earn a bachelor's degree in as little as a year!* And with courses available on campus, online or as a mix of both, Peirce works with your busy schedule.
Now is the perfect time to finish your degree and take on a leading role in business. Apply today or call 888.467.3472, ext. 9000 for more information about this on-campus and online leadership degree.
*Completion time of the Integrated Leadership Degree is dependent on transfer credits and academic course load.
Curriculum
INSTITUTIONAL REQUIREMENTS:
Min. Credits
PRC 101
Peirce College Orientation
1
BIS 111
Application Software Fundamentals
3
ENG 101
English Composition
3
ENG 103
Rhetoric and Research
3
PSY 101
Introduction to Psychology
3
SOC SCI
Social Science Courses (choose 3)
9
ENG/COM
English/Communications Course (choose 1, COM 202 recommended)
3
HUM 275
Leadership and Ethics
3
HUM/HIS
Humanities/History Courses (choose 1)
3
MAT
Mathematics Course (choose 2)
6
MAT 109
Statistics I
3
SCI
Science Course (choose 2)
6
GEN ED
General Education Course (choose 2)
6
PROGRAM REQUIREMENTS:
Min. Credits
BUS 100
Introduction to Business
3
MIS 205
Ethical Management of Information Technology
3
HRM 201
Human Resource Management
3
MGT 306
Organizational Dynamics
3
MGT 310
Ethical Leadership
3
HRM 310
Training Development and Design
3
HRM 410
Organizational Development
3
MIS 302
Project Management
3
BUS 440
Applied Business Research
3
ELE
Elective Courses (choose 13)
39
Career Options for Integrated Leadership
Graduates of our Integrated Leadership program go onto careers in the government and a variety of for-profit and non-profit businesses. Our program prepares students to take on leadership positions like department head, project administrator, or team leader.

Graduates are also prepared to take on consulting positions in employee, organizational and workforce development.
---