Peirce & Year Up Ribbon Cutting | Press Release
Peirce College and Year Up Formalize Partnership with Celebratory Ribbon
Thirty-four of Philadelphia's young adults are currently enrolled in this intense program to prepare for today's dynamic job market.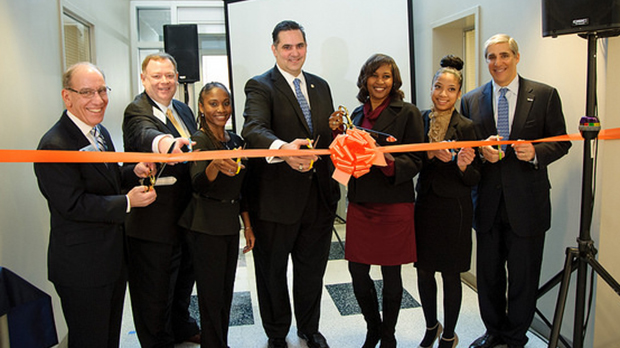 PHILADELPHIA, March 14, 2014 -- Last week, Peirce College celebrated the official ribbon cutting of the country's first and only Year Up Professional Training Corps (PTC) program at a four-year college.
As unemployment in the region hits 8.1 percent and an estimated 45,000 individuals under the age of 24 are unemployed, not attending school, and have no degree beyond high school, the partnership between Peirce and Year Up plays a critical role in closing the Opportunity Divide for urban young people. Across the nation, Year Up programs have helped more than 8500 young adults close the divide and find full time employment or enroll in college full time. The ribbon cutting publicly symbolized the commitment of Peirce College, Year Up, the Mayor's Office, and the local business community to helping Philadelphia's aspiring professionals earn a college degree and gain the knowledge, experiences, and skill sets needed to embark on a fulfilling career.
"We believe in a holistic approach to education and partnering with compatible organizations," said James J. Mergiotti, president & chief executive officer of Peirce College. "Our students require human development and experiential learning as well as academics, so they have the best possible preparation for today's job market. We believe that Philadelphia holds enormous opportunity for this partnership, and that together we can have a significant impact on community, workforce, and economic development throughout the region."
In commenting on his vision for this program, Year Up Founder and Chief Executive Officer Gerald Chertavian said, "By cutting the ribbon at Peirce College, we are reaffirming a belief in young people: that they are the economic assets that fuel the best companies in this country."
The Year Up PTC program in Philadelphia offers students 27 credits at Peirce College and a full-time internship at a Fortune 1000 company, preparing participants to become active contributors in Philadelphia's workforce.
Comcast has served as one of the foundational partners in this internship program. William Strahan, executive vice president of human resources for Comcast, was honored at the March 5 ribbon cutting and commented on the partnership: "This is a community of companies in Philadelphia standing up for a great program. Like Peirce, we are an organization that has deep Philadelphia roots, and we are committed to investing in local students. The partnership of Year Up and Peirce College is wonderful for the city and we are delighted to be part of the corporate team here today."
Thirty-four students are currently enrolled in the program and serve as leaders in pioneering this solution for Philadelphia. Richard Negrin, deputy mayor of administration & coordination for the Mayor's Office, has committed his office to working with at least six Year Up students each year. Negrin joined in the ribbon cutting celebration and said, "We need Year Up in Philadelphia, and we have already seen this program help us bridge the gap of opportunity. On behalf of the Mayor and the city of Philadelphia, we welcome you."