Peirce Commencement Speaker Announced | Press Release
Sharmain Matlock-Turner Named Peirce College's 2014 Commencement Speaker
Matlock-Turner to give keynote address at Peirce's 149th Commencement Ceremony, June 9, 2014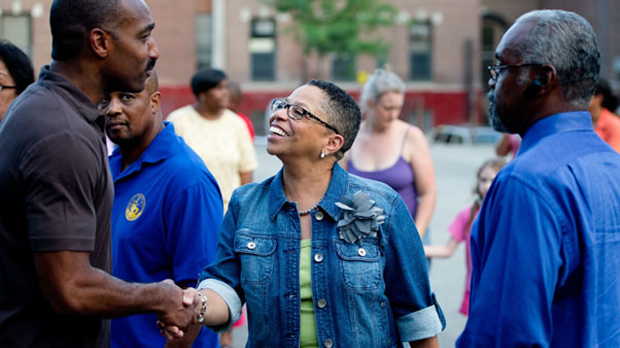 PHILADELPHIA, May 6, 2014 -- Today, Peirce College is honored to announce that Sharmain Matlock-Turner, President and Chief Executive Officer of the Urban Affairs Coalition (UAC) and one of Philadelphia's most esteemed leaders, will serve as the keynote speaker of their 2014 Commencement Ceremony.
"We are thrilled to welcome Ms. Matlock-Turner as our Commencement keynote speaker," said James J. Mergiotti, President and Chief Executive Officer of Peirce College, "Her successful career has been dedicated to improving Philadelphia and transforming the lives of its residents—a mission firmly aligned with the values, focus and goals of Peirce. We are honored that she will join us to celebrate our 2014 graduates."
Ms. Matlock-Turner is the first female president of the 44-year-old UAC; an organization that unites government, business, neighborhoods, and individual initiatives to improve the quality of life in the region, build wealth in urban communities, and solve emerging issues. She is currently celebrating her 15th year as leader of the Coalition. She is also the Co-founder of Arise Academy Charter High School, the first public charter high school in the U.S. for youth in foster care and Co-founder and Chair of West Oak Lane Charter School. Ms. Matlock-Turner serves on the boards of the Greater Philadelphia Chamber of Commerce, The Children's Scholarship Fund of Philadelphia, the Philadelphia Council for College and Career Success, and the Philadelphia Cultural Alliance. Additionally, at the appointment of Mayor Michael Nutter, Matlock-Turner holds the position of Co- Chair of the Advisory Committee for the Office of Economic Opportunity.
"Ms. Matlock-Turner has worked tirelessly to strengthen Philadelphia's youth and young adult population by helping low-income families access the resources they need to gain an education and career training," said Dr. Rita Toliver-Roberts, Vice President of Academic Advancement for Peirce College. "Ms. Matlock-Turner serves as a model for our students. She is a shining example of focus and determination for our graduates and we know she will inspire these individuals—many of whom are Philadelphia's next great leaders—to continue learning and actively enriching their communities," continued Toliver-Roberts.
Ms. Matlock-Turner's keynote address will highlight many important themes for Peirce's Class of 2014, including how "the only thing that is constant is change."
Ms. Matlock-Turner holds a B.S. degree in Education from Temple University. She has been distinguished as one of only three Philadelphia nonprofit leaders selected to receive a scholarship to the Harvard Business School's nonprofit leaders' summer program.
Peirce College's 149th Commencement Ceremony will take place in Verizon Hall at the Kimmel Center in Philadelphia on Monday, June 9, 2014 beginning at 6:45 p.m. and will feature the inaugural graduates of Peirce's Criminal Justice and Human Resource Management programs.