Philadelphia Campus in Center City | Peirce College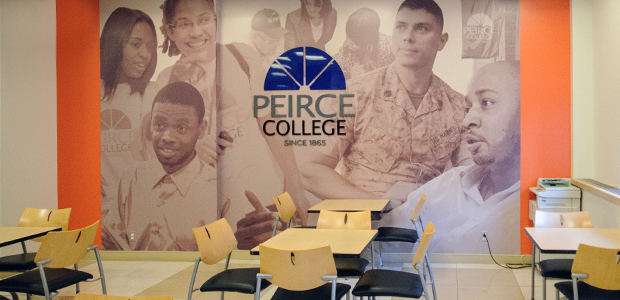 Peirce College's Center City Philadelphia Campus
The beautiful historic row homes at 15th and Pine Streets that house the Peirce College's Philadelphia campus have been modernized inside to offer classrooms and computer labs with state-of-the-art technology and a well-equipped library to enhance your academic experience. For your convenience, you can visit all of our student-focused departments at the same location – Admissions, Student Financial Services and Student Support Services are all at Peirce's Center City campus.
Located right around the corner from the thriving and energetic Avenue of the Arts, Peirce College's Philadelphia campus is home to students for day, evening and weekend programs. Students who come to our campus are just steps away from the historical, cultural and entertainment centers of Philadelphia - a city long recognized for its educational innovativeness and leadership.
Whether you choose to complete all of your studies on campus or mix and match with our online programs, we look forward to welcoming you to Peirce College.
Even if you take all of your classes online, you can still stop by our campus to get help with anything you need all in one place. So stop on by!
Additional information about our Philadelphia campus: