Stephen Cowperthwait | Peirce College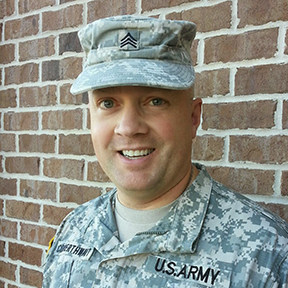 Sergeant Stephen Cowperthwait is an American hero. A former member of the Marine Corps, a current member of the National Guard and an Information Systems Analyst with the U.S. Army, Stephen is also the seventh recipient of the Peirce College/Pennsylvania National Guard Scholarship.
From Military to College, Commitment Knows No Bounds
Stephen grew up in Susquehanna, PA, a small suburban town outside of Scranton. After graduating high school, he earned his bachelor's degree in Management from Penn State University. He got a taste of several different business experiences through internships, including ones at the school newspaper, career development services and Walmart.
"I think you have to put forth the same level of commitment toward your education that you do with your work in the military."
However, upon graduation, he was unsure where he wanted to hone his business focus. He recognized that he could strengthen his skills through joining the military and felt the Marine Corps was a perfect fit. So he made the decision to serve in the Corps for the next four years.
His time in the Marine Corps was well spent, as he was able to apply lessons learned through his service to his civilian management positions after he finished serving. He spent the next 20 years in management in various industries, including finance, logistics, beverage and the mortgage business.
But five years ago, he decided he wanted to make a career change. He was watching the IT industry rapidly expand and recognized the opportunities and job security the field could provide him.
"Information technology is a field with a skillset that's going to be in demand for the next 10-15 years, and it's always changing and growing," explained Stephen. "It's also very interesting because you're looking at different ways to solve technological issues that companies have. That's why I decided I wanted to get into this industry."
To prepare for a job in IT, Stephen participated in the National Guard's military occupational specialty training. But about a year and a half ago, he decided that he wanted to take his education a step further and return to school to earn his college degree in Information Technology.
"If you're going to go into the information technology field, you really need to narrow your education down and get into something specific," said Stephen. "So one of the reasons I was attracted to Peirce College was the specific major that I'm enrolled in."
For Stephen, it all boils down to achieving his goal – just like his training in the military has taught him. "I think you have to put forth the same level of commitment toward your education that you do with your work in the military. As long as you do that, you'll be successful."
He also has some words of wisdom to share with other military members about earning their college degree. "My advice to military members is two-fold. One: if you don't have an education and you see an opportunity to earn a scholarship, apply for it and go after it. Two: use your military benefits to earn your college degree. You've earned it!"