Steve Amster | Peirce College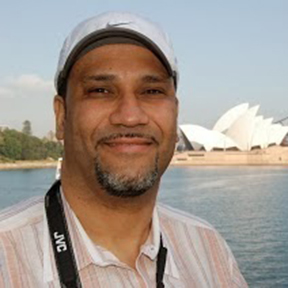 "Do not wait for a perfect opportunity to advance your career or help yourself. The work-life balance is a challenge for everyone. So why not do something that's going to better you? No one can take your education away from you once you've achieved it."
Blazing the Trail
Steve Amster, a current Peirce College graduate student, was a first-generation college graduate when he earned his Associate in Science in Information Technology degree at Peirce. That success encouraged him to never give up on his educational dreams, and now he's inspiring those around him to follow suit.
"Do not wait for a perfect opportunity."
Steve has worked in the healthcare industry for more than 15 years and wanted to incorporate his passion for the industry into his quest for higher education. After graduating from Peirce the first time, he completed his bachelor's degree in Healthcare Management at Bellevue University. But he wasn't willing to end his educational journey there.
Steve currently works for AmeriHealth Caritas, one of Peirce's corporate partners. After Peirce gave a presentation about our new graduate degree program in Organizational Leadership & Management at his office, Steve knew it was the right decision to go back and earn his master's degree. "Four factors helped me make my decision to return to Peirce. One: I wanted to get into a leadership program. Two: I was familiar with the school. Three: Peirce offers a brick and mortar option, and I definitely wanted to have the classroom experience versus learning online for graduate school. And four: my organization offered discounts. These were all major [factors] in my decision-making process."
Steve applied and was accepted into our inaugural class of master's degree students, beginning his classes in September 2013. "I take being in the first class of graduate students very seriously, and I'm always trying to maintain the highest GPA possible," he said.
His courses have been rigorous, preparing him to translate what he learns in the classroom to his professional endeavors. "The educators are credentialed and experienced, providing insight to the curriculum and challenging us to learn. It's well thought out -- how the classes are paired and delivered."
He has also been encouraged by his classmates, many of whom are professionals in their fields and are also looking to take the next step in their careers. "There are many seasoned professionals in the group that I'm taking classes with," Steve noted. "Having folks that have been in the workplace 10-plus years really adds maturity to the discussions. Everyone has stars in their eyes, and everyone has high expectations of what this education will give them."
Steve has found that this level of camaraderie has given him a leg up in his professional life, allowing him to get answers to the tough questions he can't ask in the workplace. "There's a level of competition in the workplace. But when you get to know your peers in the classroom and realize you're all in the same boat and that it's safe to be transparent, a wonderful thing happens. You really get insight to other industries, how other people do things and how others view you or perceive your ideas. It's that insight that gives you an advantage when you get back out to the workplace."
Steve has dreams of moving into a management or leadership position after graduating with his master's degree. "My current employer has recently initiated an executive leadership program that you have to be selected for," he explained. "So my goal is to be selected for that leadership program. I definitely expect to take my education and say I'm credentialed, and I've put forth the effort -- Where can I fit in, and where can I help the most?"
Many members of his family have taken his motivation to heart. "Family members have looked at my courage and thought, 'If he can do it, I certainly can,'" he said. "Because we all have kids, we all have jobs and we all want to seek a better opportunity. And we're all going through the same experience [of pursuing higher education]."