Financial Aid Policies, Requirements and Procedures | Peirce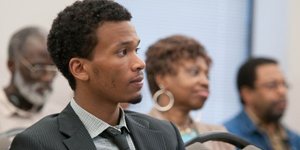 Satisfactory Academic Progress
Satisfactory Academic Progress (SAP) denotes a student's successful completion of coursework toward a certificate or degree. Federal regulations require Student Financial Services to monitor the progress of each federal aid recipient's progress toward certificate/degree completion. The college's academic year and certificate/degree completion requirements are defined in the Peirce College Catalog [link to 1.7.1]. The SAP policy (defined herein) for financial aid recipients is stricter than the academic standards for those students who do not receive federal Title IV aid.
A student who fails to complete his/her courses, fails to achieve minimum standards for his/her cumulative grade point average or fails to complete the certificate or degree- within the maximum timeframe, may lose his/her eligibility for all types of federal student aid administered by Student Financial Services. SAP standards are applied to all categories of students (i.e. full and part-time) and are reviewed at the conclusion of every spring semester.

Aid Programs and SAP
The Satisfactory Academic Progress policy affects student eligibility for the following federal programs:
Federal Pell Grant

Federal Supplemental Educational Opportunity Grant

Federal Direct Loan (subsidized and unsubsidized)

Federal Direct Parent Loan for Undergraduate Students (PLUS)

Federal Work Study
NOTE: The Pennsylvania Higher Education Assistance Agency (PHEAA) has a separate policy regarding state grant funds and satisfactory academic progress.

Financial Aid Requirements for maintaining Satisfactory Academic Progress
To maintain Satisfactory Academic Progress, a federal financial aid recipient must:
Maintain a minimum cumulative grade point average (GPA) - The minimum for undergraduate students is a 2.0 (out of a 4.0 scale) cumulative GPA at the end of each spring semester. Your cumulative GPA includes all of the courses that you have attempted at Peirce College to date including those in which you received incompletes, withdrawals or were repeated from an earlier term. (GPA requirements for institutional scholarships may be higher.) A 2.0 cumulative GPA is required in order to graduate from Peirce College; and

Complete at least 67 percent of all credit hours attempted - At the conclusion of the spring semester the total number of credits that a financial aid recipient has attempted at Peirce College will be compared to the total number of credits the recipient has completed.

Grades of A, B, C, D count as coursework that was attempted and satisfactorily completed toward the percentage of credits earned.

Grades of F, W and I count as coursework that was attempted but not satisfactorily completed.

(For example, an undergraduate student who enrolls for 12 credit hours and completes only 7 credit hours has completed 58.33 percent of attempted credit hours.) All attempted credits including failed courses, incompletes, withdrawals, repeated courses and credit bearing developmental courses will be included in this assessment; and


Complete a certificate or degree program in a maximum timeframe of no more than 150 percent of the average length of the program -Maximum Credit Hours: A student may receive financial aid for attempted credits in their program of study; however, the number of attempted credits cannot exceed 150 percent of the College's published credit hours for the educational program in which the student is enrolled.
| | | | |
| --- | --- | --- | --- |
| | Certificate Program | Associate's Degree | Bachelor's Degree |
| # of Credits in degree | 30 | 60-63 | 121-123 |
| 150% of length | 45 | 90-94 | 181-184 |
All credits attempted during the student's enrollment count when assessing the maximum time frame, even those semesters in which the student did not receive federal financial aid funds.

For transfer students: The number of transfer hours accepted at the point of admission will be used to calculate the student's remaining eligibility under the 150 percent rule and will be included in the quantitative standard that includes number of credits attempted and completed. Transfer credits will be counted as attempted and earned credits in the calculation for determining SAP. See sample below:
Summer 2011 – 3 credits
Fall 2011 – 15 transfer credits
Fall 2011 – 15 credits
Spring 2012 – 15 credits
The student transferred and registered for a total of 48 credits during summer, fall and spring. Based on 48 credits, the student needs to pass a minimum of 33 credits (48 attempted credits multiplied by 67 percent = 32.16 credits) to successfully meet the credit completion rate. A student's grade point average at Peirce College is not affected by the transfer credits as only the credits will transfer not the actual grade(s).

Change of Program
If a student changes his/her degree program or graduates and requests another degree program, his/her coursework will be evaluated to determine the credits that count toward the new major or program. After a degree audit has been evaluated, the count of credits attempted will be reset based upon the credits completed that satisfy requirements in the new degree program. For example, if a student has attempted 60 credits but only 30 (including transfer credits) will satisfy requirements in the new degree program, then the count of the attempted credits will be reset from 60 to 30. The student in this example would have a new maximum of 60 additional credits to complete the new associate degree program. Further, this student would have a new maximum of 151 credits to complete a new bachelor's degree.

Please note: A student who completes all the academic requirements for a certificate or degree but does not yet have a certificate or degree (or has not applied for graduation) is not eligible for further financial assistance for that certificate or degree.

Change of Major
A student must provide reasonable rationale for pursuing a new major if he/she has been on academic probation and the student is not making satisfactory academic progress. Such appeals will be reviewed in the conjunction with prior information obtained through the appeal process. Please consult the College Catalog [link to 1.7.1].

Reestablishing Eligibility
Students who fail to meet the SAP requirements will be placed on financial aid suspension and as a result will not be eligible for continued assistance from the Title IV programs to pay for their classes. Ineligible students are required to meet the SAP standards detailed above in numbers 1- 3 in order to regain their eligibility for Title IV aid. When extraordinary circumstances have contributed to the failure to maintain the SAP standards the student may appeal as provided below.

Satisfactory Academic Progress Appeal Policy
All students placed on financial aid probation due to failure to meet satisfactory academic progress have a right to appeal. In order for Student Financial Services to evaluate your appeal, please follow the guidelines below, providing as much detailed information regarding the circumstances of the appeal as possible. The details of the appeal must be thoroughly explained before your appeal will be evaluated. Appeals will be reviewed on a case-by-case basis.

Instructions for Submitting an Appeal
Complete the Satisfactory Academic Progress appeal application.

Attach a typed and signed letter. The appeal letter must explain the following:
A description of the unforeseen circumstance which may have prevented the student from meeting the SAP standards;

How the circumstance(s) have been resolved and;

How the circumstance(s) will not affect the student's future academic progress.

An academic plan (which has been created with your Peirce academic advisor and/or a Peirce faculty member)
Attach supporting documentation. Documentation of circumstances described in your letter must be included with the written appeal.
Note: Additional documentation may be requested after your appeal has been submitted.

Appeal of Maximum Time Frame
A student who is close to exceeding the maximum time frame may appeal that status if he/she believes that there are special or extenuating circumstances. Examples of special circumstances would be: injury, illness, death of a close relative or other extenuating circumstances. A student may submit an application for appeal (see financial aid procedure above), with supporting documentation, to Student Financial Services. Student Financial Services will notify the student of the outcome of the appeal, and if he/she will be eligible for any additional time.
RETURN OF TITLE IV FUNDS POLICY
This Return of Title IV Funds (R2T4) policy applies to any student who receives federal financial aid, has begun classes, and subsequently either withdraws from the courses the student was scheduled to complete and/or receives all failing grades during the payment period. (We have three payment periods at Peirce College: summer semester, fall semester and spring semester.) State grant awards may also be decreased or eliminated if a student meets any of these three criteria.

Overview of the R2T4 Policy When a student withdraws from his/her courses, for any reason including medical withdrawals, he/she may no longer be eligible for the full amount of Title IV funds the student was originally scheduled to receive. Peirce College follows the federally prescribed policies and procedures for calculating whether the student has earned all or a portion of their federal financial aid.

For students in accelerated courses (sessions) within the 16-week payment period, such as 8 week session 1, 8-week session 2, 8-week session 1 or session 2 interim and/or any other variable length course that is not scheduled to run the entire term, we are required to review each session individually. This means that even if a student successfully completes one session and subsequently withdraws from a later session within the same payment period, we still must review eligibility under the most recent federal guidance. Peirce College is required to return all unearned federal aid attributed to school charges. This means that a portion of the student's tuition and fees is no longer covered by financial aid, and the student is liable for paying the balance of school charges.

This amount will be subject to immediate repayment and no further registration activity will be allowed and official transcripts will not be released until the balance is paid in full.

For more information regarding the Return of Title IV Funds Process, please refer to the Student Handbook in the Peirce College Catalog.