How to Pay for Graduate School | Graduate Tuition Options at Peirce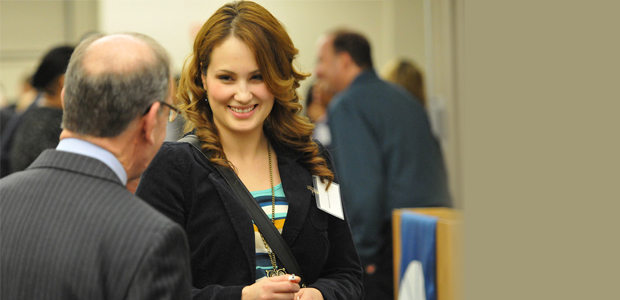 Graduate Studies Tuition
Get information on the cost of our graduate studies program, including tuition and fees.
How to Pay for Graduate School at Peirce College with Financial Aid:
Many Peirce College students rely on financial aid to help pay for their graduate tuition. The first step in applying for financial aid as a graduate student is to determine your eligibility by completing the Free Application for Federal Student Aid (FAFSA) online.
If you've never completed the FAFSA before, you'll need to apply for a Personal Identification Number (PIN). The PIN is used to sign the FAFSA electronically and can be obtained on the same website where you complete the FAFSA. Keep this number in a safe place as you will need it in future years and to sign other Federal documents. Be sure to include Peirce's school code (003309) in your application so the completed FAFSA will be sent electronically to the College.
Please note, if you choose to borrow through the Federal Government's loan programs, you must complete a Master Promissory Note (MPN) and loan entrance counseling at studentloans.gov. Again, be sure to include Peirce's school code (003309), so the College receives your information electronically.
Types of Financial Aid
As a graduate student, you could be eligible for several types of financial aid based on the results of your FAFSA, number of credits you are taking per semester and how much money you have borrowed at other institutions. Below you can find the options offered by the Federal Government, but be sure to review the scholarships and grants offered by Peirce to apply for any additional funding that might be available to you and could help you with paying for graduate school.

Unsubsidized Federal Direct Loans
Under direct lending, the Federal Government allows eligible students through the higher education institutions they attend to borrow money. At the graduate level, students are eligible to borrow an Unsubsidized Direct Loan for a maximum of $20,500 per academic year to help with paying down graduate tuition. The student is responsible for paying all the interest on the Unsubsidized Direct Loan as this is an interest-bearing promissory note. Six months after the student is no longer enrolled or is taking fewer than six credits (or the equivalent of half-time status) the student will enter repayment.
Federal Graduate PLUS
Credit-worthy graduate students can borrow money needed to cover the total educational cost of the academic program, minus other financial aid. These loans are not need-based and are based solely on credit ratings. Please note that a student must borrow the Unsubsidized Direct Loans first. As with any loan, please borrow only what you need since this is money you will have to repay to the Federal Government.
Federal Work Study
A student enrolled as a graduate or professional student in a degree-seeking program is eligible to receive assistance through the Federal Work Study Program. In order to be considered for the Federal Work Study program, a student must demonstrate financial need, which is determined by completing the FAFSA. A student can be a full-time or part-time student at Peirce and be eligible for Federal Work Study and receive financial assistance for graduate school tuition. A student can choose to work on campus or at an approved off-campus location. The student is paid in the form of a check for the hours he/she works.
Have questions about financial aid for graduate studies? Please contact the Student Financial Services Office: