How Does Work Study Work at Peirce College?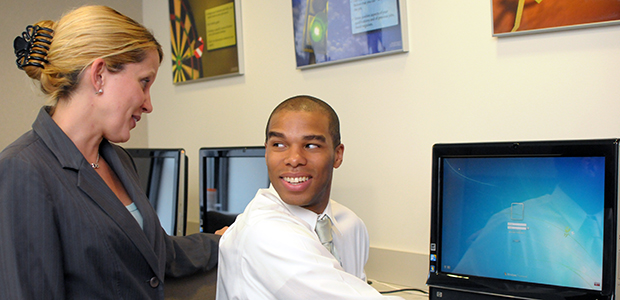 Work at Peirce While You Earn Your Degree
The term "Work Study" refers to the Federal College Work Study Program (FCWSP). The program is a form of federal aid that the Student Financial Services Office awards to full-time and part-time students to satisfy a portion of their documented financial need through part-time employment at the College while attending school.
How Does Work Study Work at Peirce College?
When enrolled in a Work Study program at Peirce College, students will be are paid an hourly wage. These funds are NOT credited to your student account. If you take a Work Study job, you will receive a paycheck for the hours you work. Positions are limited and the College freezes hiring when we reach the maximum number of students allotted to us by federal funding.
Peirce College also participates in the Federal Work Study Community Service Program, which involves off-campus, part-time employment. Students in this program may work off-campus for approved non-profit and/or government agencies.
To be eligible for the FCWSP, students must first qualify for financial aid. Once authorized, students can view specific job opportunities within the College using the Career Development Services Peircelink job tool. All students accepted for FCWSP positions are required to complete a training program on office procedures and professional etiquette prior to starting their assignment.
To learn more about the program, email us at cds@peirce.edu, visit us in the Career Development Services center, sixth floor, College Hall or call us at 1.888.467.3472, ext. 9202.
To find out if you're eligible for FCWSP or if you'd like to ask one of our representatives, "How does Work Study work at Peirce College?" contact Student Financial Services at 1.888.467.3472, ext. 9600.