Our Rich History | Peirce College History | About Us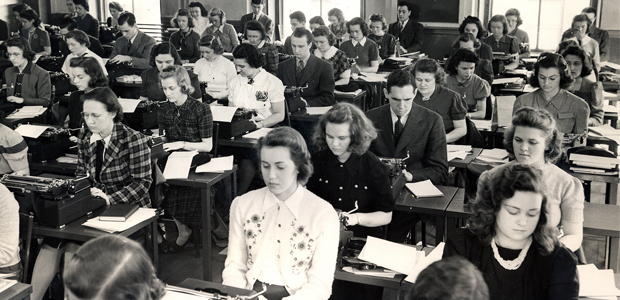 A Modern Education Backed By a Deep, Rich History
Peirce College is in the business of transforming lives through practical, career-focused education. For 150 years, our mission has been to provide working adults with an affordable education with flexible classes and personal attention. Located in Philadelphia, Pennsylvania, Peirce is one of the oldest accredited colleges offering a complete online degree program in the United States.
Take a look back at our rich history and see how Peirce has grown to help working adults everywhere earn college degrees.
BIRTH OF A NEW IDEA
Peirce College history began shortly after the end of the Civil War. During that time, Thomas May Peirce founded the Union Business College to deliver a new kind of practical, business education in the post-war years. Many ex-soldiers needed special teaching to land a career, and in its first year, Peirce enrolled 550 students.
Dr. Peirce also offered career-oriented education to women, an idea well ahead of its time in 19th Century America. Enrollment was at 300 women strong by 1888. Today, we continue to be a leading provider of part-time business education for Pennsylvania women.
As the College grew, it was renamed the Peirce College of Business and moved to larger facilities. Growth led to distinction, with honors in the form of awards and well-known commencement speakers visiting the college for graduation ceremonies, like John Wanamaker, Andrew Carnegie and several ex-presidents, including Benjamin Harrison, Grover Cleveland, Theodore Roosevelt and William Howard Taft.
TURN OF THE 20TH CENTURY
A study in 1907 showed that Peirce graduates were enjoying successful careers, with 1,000 graduates either running their own business, or in roles as top executives in banking, manufacturing or commercial firms.
We moved in 1915 to our current location at 1420 Pine Street. Peirce's facilities were state of the art at the time, with a library, restaurant, gymnasium, showers, bowling alley, elevators and filtered drinking water delivered to fountains every day. That same year, a Building and Loan Association was formed to help students invest their earnings and support their income.
During World War I, Peirce was renamed the Peirce School of Business Administration. Special "War Courses" were taught – free of charge to Armed Forces members – to meet the demand for clerical workers. In 1920, we restructured again, offering a two-year option with our Business Administration curriculum.
INNOVATION AND GROWTH
During World War II, Peirce continued to help prepare both civilian and government workers to contribute to the operations of the modern military. Throughout the 1950s, Peirce offered specialized certificate programs to growing occupations, like medical, airline secretaries and receptionists. The Office Automation Division opened in 1959 and was thought to be the first Business Data Processing program in the Eastern U.S. New degrees were offered in Arts and Sciences and Liberal Arts.
In 1964, we began to grant associate degrees as Peirce Junior College. In the tradition of innovative education, we opened a second Center City branch in 1965 to house the Automation Division. By the late 1960s, overall enrollment approached 2,000, a testament to the success of Thomas May Peirce's programs and leadership.
Through the 1970s and the 1980s, Peirce's success was fueled by interest in our practical business and technology programs. We continued to be a leader in business education, began offering computer-related courses and, in 1985, established a paralegal studies program. The paralegal studies program gained the approval of the American Bar Association and quickly became one of our more popular offerings.
TAKING EDUCATION TO THE STUDENT
Arthur J. Lendo, Ph.D., was named president in July, 1991. We reaffirmed our historical mission of providing practical, leading edge education. We also added many strategic partnerships with employers in the region. Enrollment has since reached all-time records in many of our programs.
When we saw a need for corporations and government agencies to guarantee a quality workforce, we started the Corporate College in 1994. The entire Business Administration Degree was delivered to students at their respective places of employment. Corporate College students study at an accelerated schedule, using customized case study examples. Between 1991 and 1995, enrollment grew by 50%.
In 1997, we began offering Bachelor of Science degrees for programs in Business, Healthcare, Information Technology, Court Reporting, and Paralegal Studies. That same year, we became the only bachelor's degree program in Paralegal Studies in Philadelphia to be approved by the American Bar Association.
At the turn of the 21st century, we created Peirce Online, enabling students to access quality Peirce courses through the internet. We were one of the first schools to offer online degrees, and we're still making them available today to students in the Greater Philadelphia Region and beyond. Our students value the ability to get the exact same experience online as they would here on our Center City campus, so that's exactly what we give them.
In 2013, Peirce College launched its first master's degree program, marking the latest milestone in the rich history of one of America's oldest colleges.
Today, Peirce College continues in the tradition of excellence and our mission of helping working adults advance their careers through flexible courses offered on campus or online.