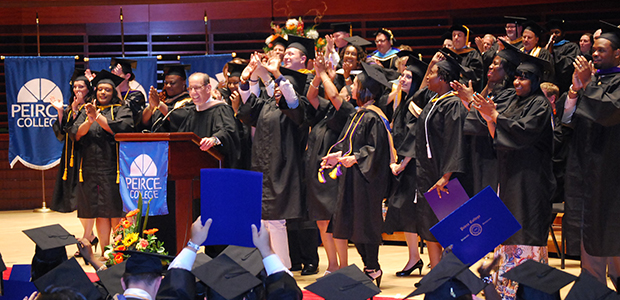 Commencement is a BIG deal at Peirce College.
For many of our students, earning a college degree is a milestone they never thought possible. Walking across the stage in June are sons, daughters, mothers, fathers, grandparents, employees, managers, and more. Our students aren't just students at Peirce. They are people from all walks of life, with wide-ranging goals and responsibilities, but they have one thing in common – they have achieved their goal of completing a college education. They are PROUD, and we are honored to have been their college of choice.
For a glimpse of the excitement, take a look at last year's Commencement Ceremony video.
2015 Commencement
The 2015 Commencement Ceremony will be held on Thursday, June 11, 2015 at 6:45 PM at the Kimmel Center for Performing Arts located on Broad and Locust Streets in Philadelphia, PA. Students who have successfully completed their coursework by August 31, December 31 and May 31 are eligible to participate in the commencement ceremony. Again, all coursework must be completed.
Graduation Application Deadlines
The graduation application deadlines for August 2014 and December 2014 have passed. The application for graduation for May 2015 will be available from October 16, 2014 until December 15, 2015.
If you believe that you successfully completed your degree requirements by May 2015, please contact your Academic Advisor immediately.
Graduation Information
Additional information about the June 11 Commencement Ceremony will be provided throughout the spring 2015 term. Questions regarding commencement can be sent to commencement@peirce.edu.
Have you thought about your next step after graduation? Get more information on the Master of Science in Organizational Leadership & Management degree at Peirce!