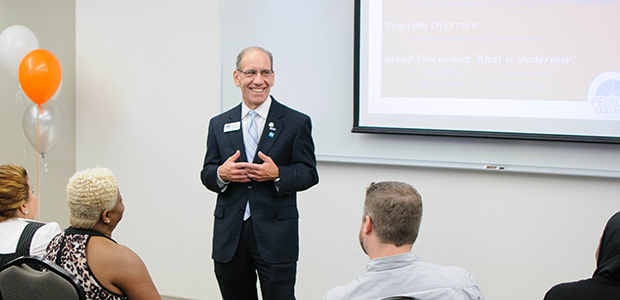 The Peirce Brand embodies our Mission, Vision & Values. Find out just how far we go to serve our students by viewing our Brand Story Brochure and Brand Video.
Mission
Peirce College is in the business of transforming lives. We do so by making the benefits of higher education accessible and attainable to non-traditional college students of all ages and backgrounds. We educate, empower, and inspire our students and one another in a highly professional, career-focused academic environment defined by trust, integrity, and mutual respect. We are passionate about equipping our students to make a difference in their communities, workplaces, and the world.
---
Vision
To become the first choice for career-oriented, non-traditional college students seeking high-quality teaching and service.
---
Values
E.M.P.O.W.E.R.E.D.
Peirce College adheres to the following nine Core Values:
Encourage the pursuit of learning and growth.
Make a difference through the delivery of exceptional customer service.
Play as a team; be a responsible partner in the process.
Open our minds to exploring new ideas and better ways of doing work.
Work with passion and determination; be proactive.
Engage others in open communication, listen, and build honest relationships.
Respect others and expect the same.
Embrace and promote diversity.
Demonstrate flexibility and adapt to change.