Military Students FAQs | Military-Friendly College | Peirce College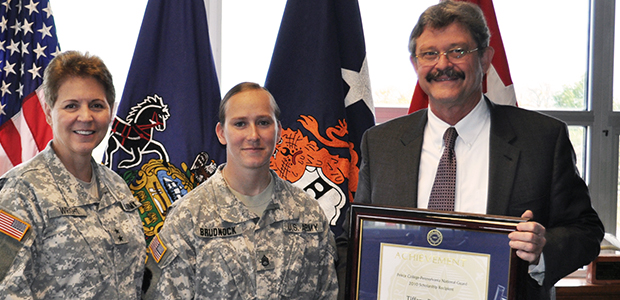 Military Students FAQs
Here at Peirce College, we strive to be a better military-friendly college. If you don't find an answer to your question below, contact our Military Support Team. We are dedicated to helping our military students succeed!
How do I apply for Military Benefits?
You can apply for benefits on the U.S. Department of Veterans Affairs website. You'll find a simple set of instruction to follow and contact information if you need help.
Is Peirce accredited?
Peirce College is accredited through the Middle States Commission on Higher Education.* Some of our degree programs are also accredited by various organizations on an individual basis. Visit our Accreditation page for detailed information.
Are there Peirce benefits for military spouses and family members?
Military spouses and dependents receive 25% off tuition at Peirce College through the College's Protect & Serve® Grant and, in some cases, are eligible for military-specific scholarships. You can contact an Admissions Counselor at 1.888.467.3472, ext. 9000 for more information.
Does my military experience count as college credit?
Your military experience will be evaluated for college credit. Additional ways of receiving college credit can be found on our Credit for Prior Learning page. Military students can contact an Admissions Counselor at 1.888.467.3472, ext. 9000 for more information.
Does Peirce offer online classes?
Being a military-friendly college, nearly all of our degree programs are offered online as well as on our Philadelphia campus. Many of our military students choose to combine on-campus classes with online classes.
Can I get my transcript reviewed before I apply?
Our admissions counselors are always happy to give you an unofficial review of your credits before you complete your application. You can submit your transcripts at any time. Contact an admissions counselor at 1.888.467.3472, ext. 9000 for more information.
Is Peirce an SOC college?
Peirce has shown its commitment to the military student by being a long-standing member of Servicemembers Opportunity Colleges (SOC).
Do I have to report my veterans' education benefits to the Student Financial Services Department?
Yes. You must report your estimated benefits on the Free Application for Federal Student Aid (FAFSA). You must also report the number of months you will be receiving a benefit and the amount of the benefit based on the number of credits you are taking. For example, if you are a half-time student, report your half-time benefit. You can contact Student Financial Services with any questions or concerns at 1.888.467.3472, ext. 9600.
What happens if I do not report my veterans' education benefits?
An estimated amount of veterans' education benefits may be entered in your financial aid resource package. This amount may be more or less than what you will receive and will affect the amount of financial aid you receive. It is in your interest to report your benefits accurately.
What happens to my financial aid if I have a change in enrollment or my VA benefits or I receive additional funds?
If you change enrollment, receive additional funding, or incur a change in the type and/or amount of VA benefits, your financial aid award may be adjusted and funds may need to be returned. You should notify Student Financial Services of any of these changes.
*The Middle States Commission on Higher Education, 3624 Market Street, Philadelphia, PA, 19104, phone 267-284-5000.