2021 Virtual Executive Leadership Breakfast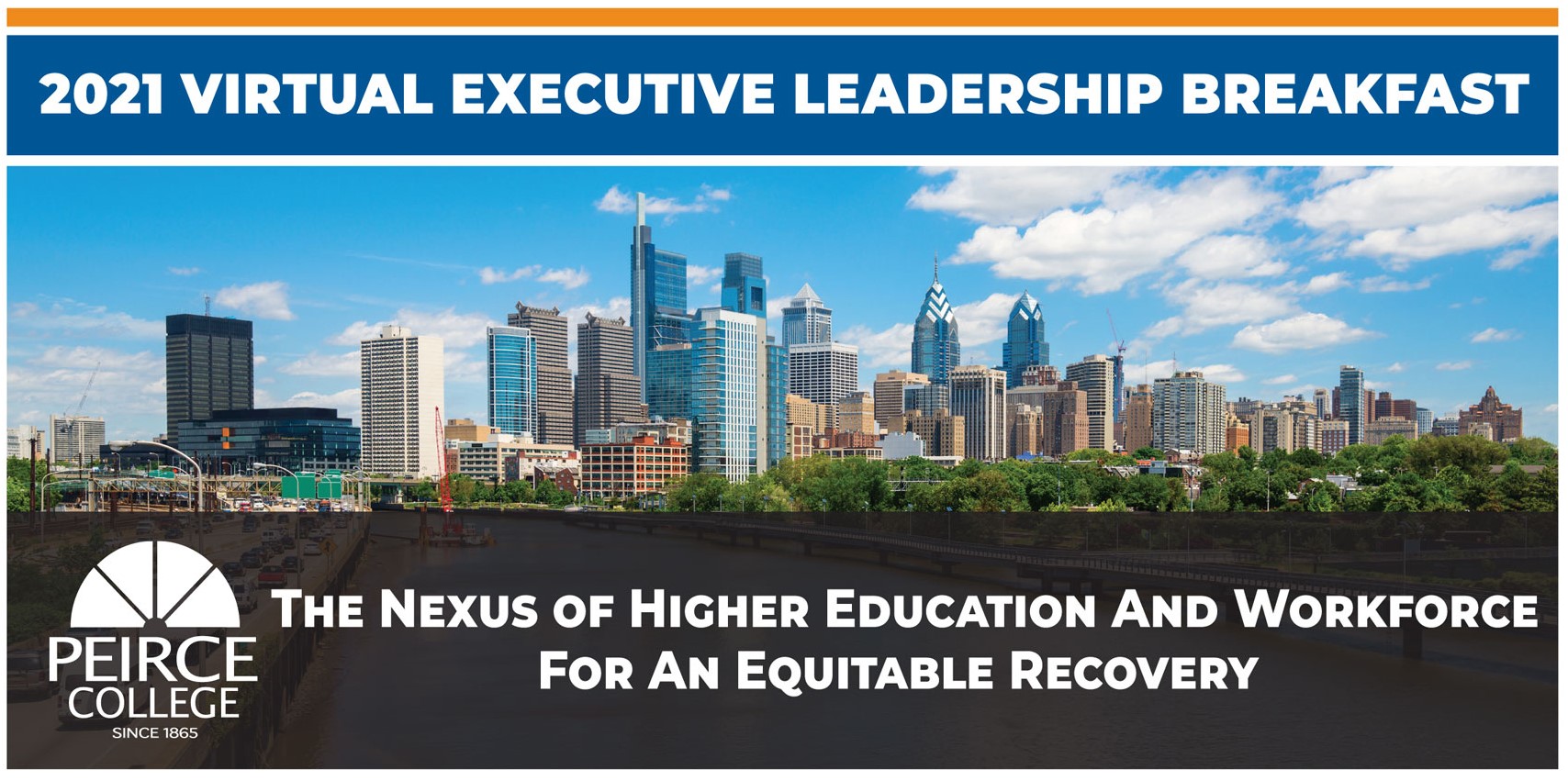 2021 Virtual Executive Leadership Breakfast
Peirce College hosted the 2021 Virtual Executive Leadership Breakfast on March 31 to explore the nexus of higher education and workforce for an equitable regional recovery.
The main event was a live panel discussion that focused on the pandemic's impact on the workforce, specifically skill shortages, trauma-informed learning and training, digital access and literacy, and the importance of diversity, inclusion and equity in recovery efforts. Panelists agreed that partnerships between higher education and workforce development organizations are critical for equipping individuals with the skills they need in a timely and efficient manner that result in helping people qualify and obtain jobs that pay family-sustaining wages.
The live panel discussion was moderated by Sheila Ireland, Deputy Secretary, Workforce Development, Department of Labor and Industry at the Commonwealth of Pennsylvania. The panel included:
Jeff Hornstein, Executive Director, The Economy League of Greater Philadelphia
Robert F. Smith, Vice President, Community Impact, Comcast – Freedom Region
Tammy Pollard, Corporate Director, Enterprise Learning Governance, Infrastructure and Onboarding, AmeriHealth Caritas
Lisa Gauthier, Council Member and Former Mayor of East Palo Alto, Ca.
Hassan Charles, Vice President of Workforce Innovation and Partnerships at Peirce, introduced information about Career Bridge, Peirce's newest program, which provides the skills, certifications and credentials to position displaced workers for in-demand jobs, and the guidance and support to find those job opportunities.
The College also presented its inaugural Trailblazers in Transformation Awards to two Peirce alumni:
Diana Kirkland '14, '16, a US Navy veteran who overcame addiction and other challenges to advance her career and her life. She earned both her associate and bachelor's degrees in Paralegal Studies from Peirce College as a proud mother of six. Today, Diana serves as a Legal Administrative Specialist with the regional office of the U.S. Department of Veteran Affairs in Philadelphia.
Josh Slocum '20, a Cloud Desk Agent for Comcast. Josh's main inspiration for managing a full time career while advancing his education was to keep a promise he made to his parents, and to remain focused on becoming a great leader.
Thank you to everyone who joined and supported this powerful event, including the two 2021 Trailblazers in Transformation recipients, the event moderator and panelists, and our generous sponsors.
© 2021 Peirce College. All rights reserved.