Professional Development Week: Resilience & Reinvention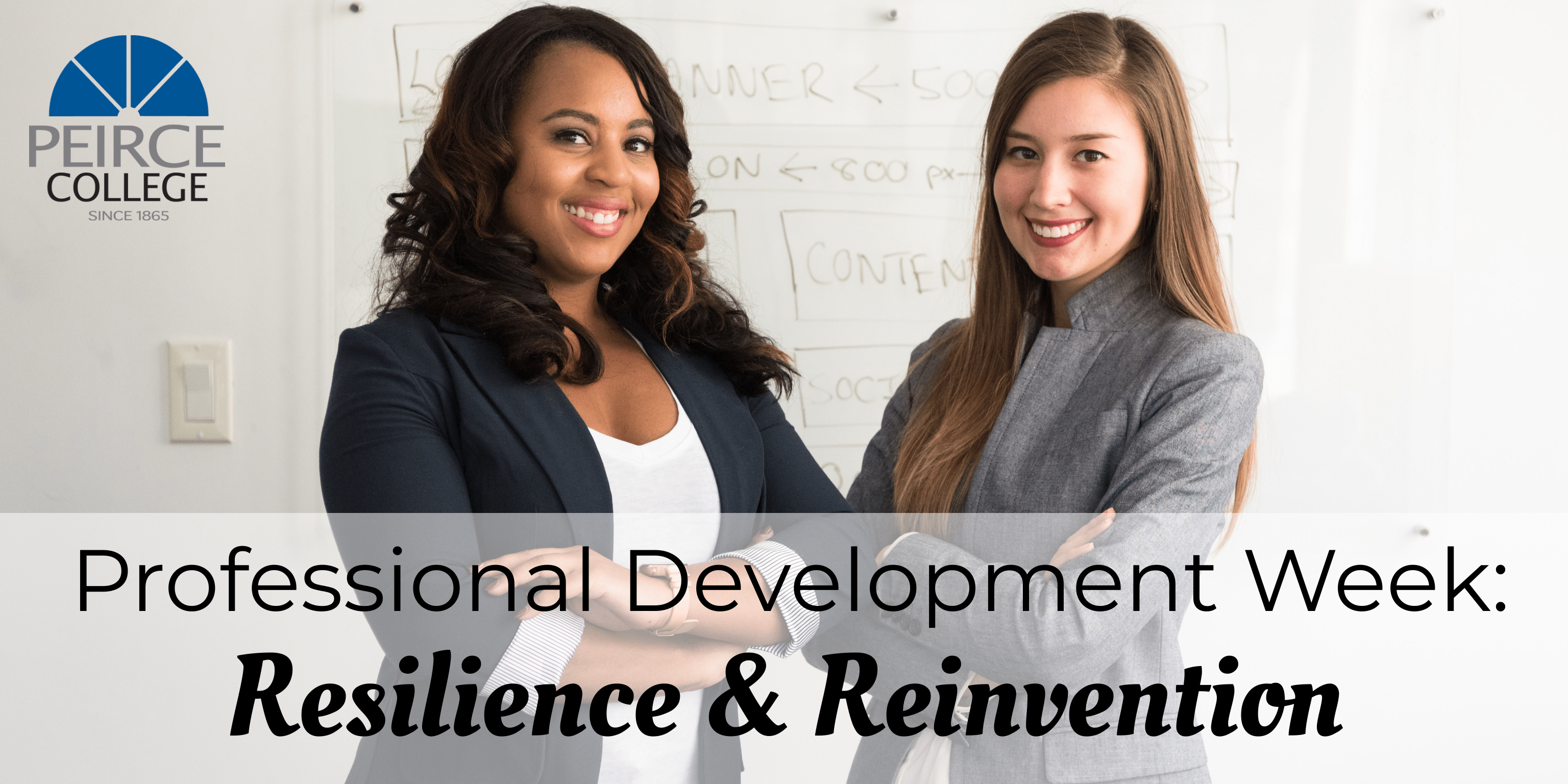 Professional Development Week: Resilience & Reinvention
When the planning began for an immersive professional development experience for Peirce students, alumni and the community back in 2019, the world was a completely different place. In-person events were normal, as were in-person careers, including interviews, meetings, and more.
As a society, we had to pivot almost overnight. We developed a whole new online skillset, and found ways to continue to grow, learn, and thrive while treading new water. The theme of Resilience and Reinvention became increasingly relevant as the Center for Career & Professional Development began to rebrand the professional development offerings for the Peirce community. And that is how the 2021 Peirce College Professional Development Week blossomed.
As the topics for the nine sessions developed, the ideas of Resilience and Reinvention were not based solely on the pandemic; in fact, these themes were in place before COVID-19 became part of our language. Resilience and Reinvention are the essence of who Peirce students, alumni, and supporters are. We are constantly growing our natural resilience, finding pockets of growth despite many obstacles, and reinventing ourselves to meet the moment.
But a year into the pandemic, this theme was more relevant than ever and it was only natural that the week of high-quality events should speak to it.
The week started with, "Welcome to my TED Talk: Telling Your Story," where Career Development Counselor Marci Brown provided a useful framework for everyone's unique career narrative. A few takeaways from the event were:
When telling your story, know your audience and be strategic in what you share.
You are the subject matter expert when the topic is you.
Examine your experiences and craft stories that increase interest and inspire confidence.
Next, Leslie Ballway, Director, Center for Career & Professional Development, had a great conversation with Caitlin Frontino, Senior Associate of Human Resources at American College of Physicians during, "My 2021 Resume & Cover Letter," where they reported out on how to use these documents to set yourself apart from the competition in the new economy. Key takeaways included:
Keep track of your wins and share them on your resume.
Use keywords instead of buzzwords in your resume and cover letter.
Be consistent in the information displayed and in the style of the resume.
During "The Art (and Science!) of Asking for Help," Peirce Team Members Christa Donato, Ellen Massey, and Devon Vargason provided guidance on why we should make use of the support systems around us and discussed how academic advisors, tutors, professors, and career counselors can help. The top takeaways included:
Communication is key and there are people waiting and wanting to help.
Peirce College has multiple departments to help support your educational journey from start to finish.
Let your Advisor be your advocate and help you coordinate resources.
You don't have to do this alone!
Day two of Professional Development Week closed with a deep conversation with Amy Scroggin, Director of Community Counseling, Training, and Coaching at The Lincoln Center for Family and Youth. She guided participants through her experience from surviving to advocacy, discussed the impact of trauma on our lives, and shared how we can all help. Key things to remember from her discussion are:
Trauma is nuanced and different for every individual.
Resilience isn't a destination you reach, but something you choose on a daily basis.
Your support system is vital to the healing journey.
The next day, Ruthann Wyatt, Director of Student Financial Services, and the Student Financial Services team held a practical event for all prospective and current students where they mapped out different opportunities for funding your education during, "All About the Benjamins." At this event, attendees learned about:
Peirce scholarships and external scholarships
Different grant opportunities
The United Way Lubert IDA program where you can earn $3,000 towards your degree
Each option comes with different requirements and applications, but with the help of the Student Financial Services Team at Peirce, you can find unique ways to finance your degree without breaking the bank. To view the presentation with all the helpful resources and links, visit here.
Later that day was the flagship event, "Women in Leadership: Nevertheless, She Persisted." Five powerful and influential women shared their tales of persistence in the face of adversity. Panelists included:
1. Melissa Fox, Chief Operating Officer, Acenda Integrated Health
2. Dawn Bruno '05, Peirce Alumna and Vice President of Human Resources, McCormick Taylor
3. Jennifer Carter-Lawyer, Assistant Vice President, Corporate Human Resources, TD Bank
4. Sirena Moore-Thomas, CEO/Founder, The Highmark Group LLC
5. Grace Castro, Senior National Account Manager, Grainger
All of the speakers addressed the impact of the pandemic on women in the workplace, which has been significant and noteworthy. They provided ideas for how we can support women during this difficult time, gave insight about when to question the rules, and advised how to pick your battles. Top takeaways from this event include:
Amplify the women around you to create community.
Be authentic! There is power in your story.
It's okay to cry, but don't quit.
Empower other women, support each other, build each other up.
You never lose. You either win or you learn.
On day four, Dr. Cathy Littlefield gave a fun and interactive workshop on, "Growing Your Natural Resilience." Dr. Littlefield shared with attendees on key topics, such as:
Resilience is having the ability and courage to bounce back while dealing with an adverse situation in a positive and creative way.
Use the P.U.M.P. method when feeling deflated:

P – Pause (take a brief break from the situation)
U – Understand (understand that finding fault is not the solution — remain focused on the facts of the situation)
M – Manage (be aware and manage emotions)
P – Perspective (keep things in perspective — think big picture)

Practicing these steps and being aware can help prevent a situation from becoming overwhelming.
Then Dr. Stephanie Donovan helped us answer the question, "Does Mindset Matter?" Attendees learned about the science behind the growth mindset and neuroplasticity, phrases to use if we find ourselves with a fixed mindset, and the mantra that we have an opportunity to grow if we believe that we can. She left attendees with key takeaway points, such as:
Resilience can be defined in a modern way as "Advancing Despite Adversity."
Everyone is capable of having a Growth Mindset, which is the idea that you can get smarter, better, or more skilled at something through sustained effort.
Neuroplasticity is the brain's capacity to replace old beliefs with new ones.
If you believe you can do it, you can do it. Try replacing fixed mindset phrases, such as, "I'm not good at this," with growth mindset phrases, such as, "What am I missing?"
Professional Development Week closed on an inspirational note. During the, "Career Reinvention Panel," Paul Herrmann, INFOSEC Director at UPenn led with his story of running a successful small business, then pivoting back to the workforce in his 60s. Dr. Stephanie Gibbs-Emenaka, Director of Admissions at Peirce College, told her experience of building her credentials, leaving the workforce to be a stay-at-home mom, and then following her calling to connect working adults with their futures at Peirce College. Shuja Moore, Community Engagement Coordinator and documentary filmmaker, told us about his experiences reinventing himself to positively impact his community after many years of incarceration. Each panelist had a different perspective, but all were in agreement:
Rejection and failure are part of the process.
Align your head and your heart and focus on helping others to overcome the fear.
Your network is your net worth.
Everyone should continue to be a lifelong learner.
The 2021 Professional Development Week: Resilience & Reinvention met the community where they are with information needed to continue growing and learning despite the hardships and challenges that surround each and every one of us in our daily lives.
If you're interested in learning more about any of these events or Peirce College's Center for Career & Professional Development, contact careercenter@peirce.edu.
© 2021 Peirce College. All rights reserved.