Level Up Business Etiquette Series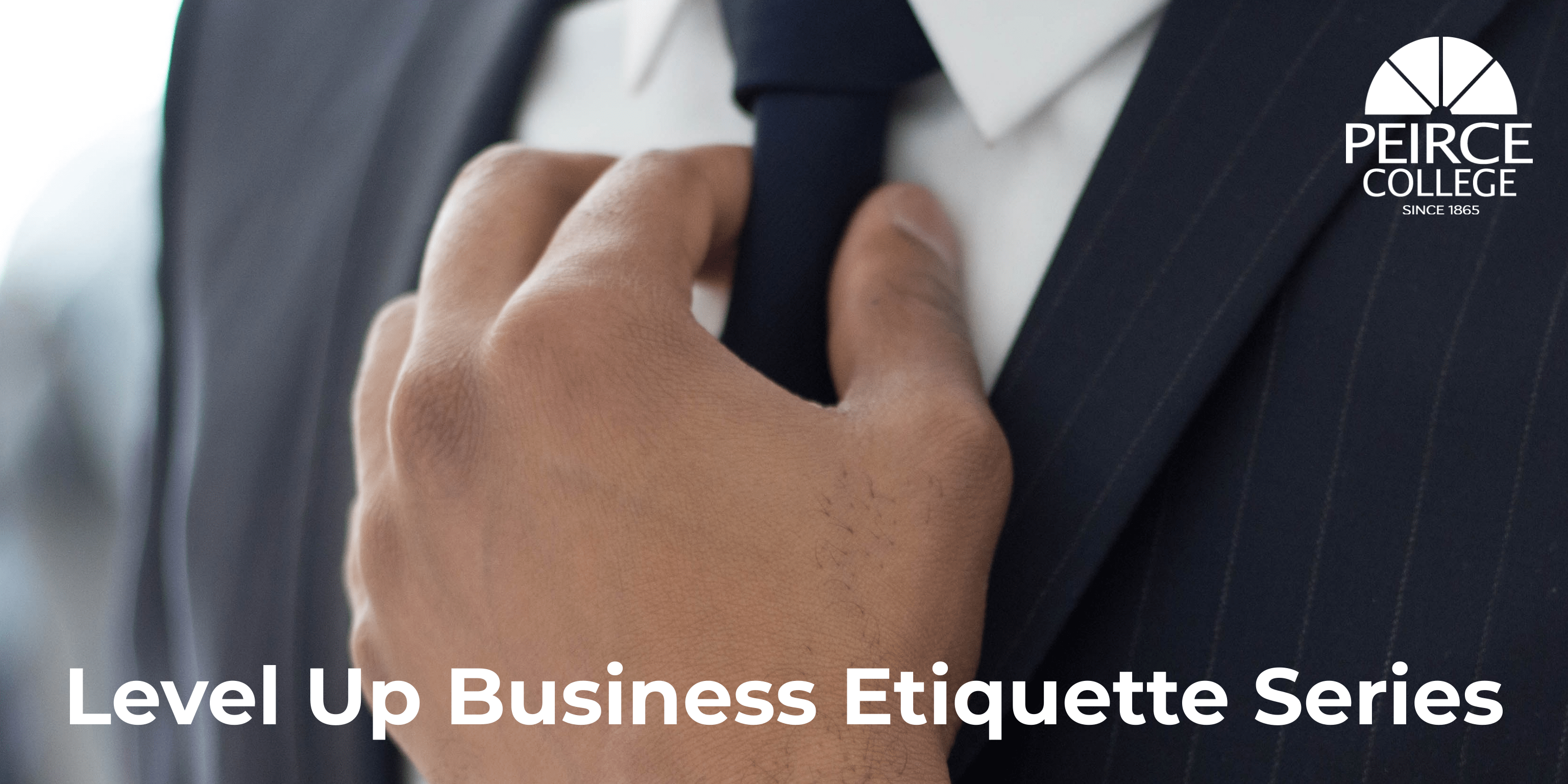 Level Up Business Etiquette Series
Last summer, as Dr. Charlene Glenn, Business Professor at Peirce College, thought about the upcoming school year, she decided she wanted to create a new and innovative virtual program to support the "power" skills development of Peirce students.
Through research and readings, Dr. Glenn discovered that, "many industry experts argue that employees with superior power skills will likely have greater success in their careers in the long run."
Dr. Glenn explained, "Since business etiquette is one of my favorite topics, I decided to develop the Level Up Business Etiquette Series that included eight workshops on various topics to help students build trust in their work environments, adopt courtesy as a success factor, and develop success behaviors to support their career advancement opportunities."
Dr. Glenn read many articles and reports on etiquette and used the book, The Etiquette Edge: Modern Manners for Business Success as her primary source for content and discussion. To make the sessions interactive, attendees engaged in problem solving scenarios, polls, case studies, and shared their personal work experiences in relation to the content.
Below is a list of the sessions with tips and strategies from each:
Session 1: Email and Zoom Etiquette
Email
– Emails should not exceed the computer screen
– Proofread communication carefully before hitting the send button
– Reply to emails within 24 hours
Zoom
– Be on time
– Turn on camera unless sick
– Make sure your background is appropriate. Simple white wall is best
– Maintain eye contact
– No eating
Session 2: Etiquette and Civility in the Workplace
Civility
– Decency Quotient, an ability to support another human being during these challenging times, a term created by CEO of Mastercard, Ajay Banga
– Be genuine and authentic in the interaction with colleagues
– Treat others with courtesy and respect
– Show empathy and humility with others
Building Political Capital in the Remote Work Environment
– Over-communicate with your manager
– Know your manager's work language for communicating, for example, email, phone, or Zoom
– Continue to build relationships with co-workers with weekly check-ins
Session 3: Creating a Good Impression
– Be willing to learn
– Take the initiative
– Establish yourself as a team player
– Ask questions and get feedback on your performance
Session 4: Building Credibility
– Be trustworthy
– Be honest
– Be competent
– Be consistent
– Be principled
Session 5: Leaving a Job Gracefully
– Maintain a good rapport with colleagues
– Maintain your professional reputation – complete assigned work or training of your successor
– Avoid communication about the company on social media
– Provide a letter of resignation based on the time commitment stated in company policy
– Conduct yourself with a professional demeanor in the exit interview
– Give constructive criticism about the company and give recommendations for improvement
Session 6: Dealing with the Prices of Success
– Listen to honest criticism
– Learn to voice your thoughts
– Be the hero in situations to deflate an issue
Session 7: Complaining with a Purpose
– Complain to the person who can make a difference
– Be descriptive rather than judgmental – constructive criticism
– Avoid getting angry
– Suggest a solution
– Thank the person who solves the problem
Session 8: Creating and Maintaining Your Personal Brand
– One must evaluate their Strengths, Weaknesses, Opportunities and Challenges (SWOC)
– Develop a statement that communicates your value and expertise that makes people want to learn more about you
– Great networking tool for resume, social media profiles and personal portfolio
Thank you to all the students and alumni who attended the sessions. Stay tuned for the roll out of another series in the 2021-2022 academic year.
© 2021 Peirce College. All rights reserved.