Best Practices for Success at a Virtual Career Fair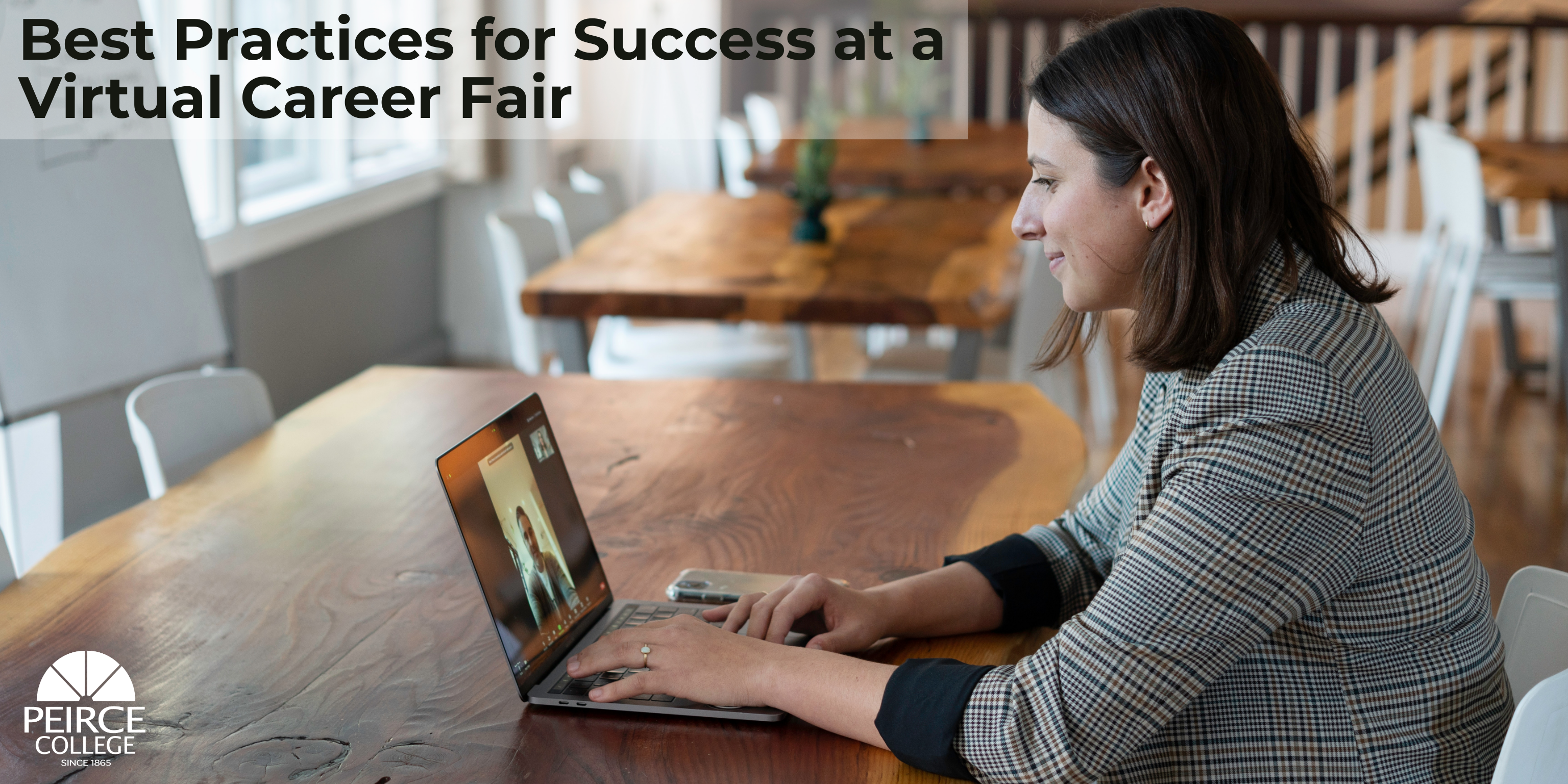 Best Practices for Success at a Virtual Career Fair
Prior to the pandemic, attending a career fair required printing resumes, getting dressed and walking into a room full of anxious job seekers moving from table-to-table trying to make a connection with a prospective employer.
Due to safety concerns, events have moved mostly to online which has led to virtual career fairs. Virtual career fairs have their own benefits and challenges, but offer job seekers unique opportunities to connect with employers.
Benefits of Virtual Career Fairs
– Reserve one-on-one sessions with the employer of your choice.
– Meet with employers in an intimate, dedicated setting reducing competition.
– Attend group sessions with employers in a virtual zoom-like environment.
– Join from the comfort of your home. No travel costs.
– Apply to the suggested openings right away from your computer.
The major challenge of a virtual career fair is similar to a common challenge of in-person career fairs, how do you create a connection? What makes it unique is the digital nature and the distance behind the screen. In person, it's much easier to perceive personal cues or to read body language. The computer screen cuts off your view or may make you less able to tell if the smile is genuine.
But, there are some ways to make your virtual experience better and more likely to lead to a genuine interaction with an employer.
Tips for Success at a Virtual Career Fair
1. Preparation is Vital
One of the major benefits of the virtual career fair over traditional career fairs is you have chosen the employer you will interact with and it is well in advance of the date. You have time to do research. You can review their company website, check what opportunities they have open and you can even apply in advance.
This also gives you the ability to prepare questions for your session. What employer won't be impressed if you know their company and ask thoughtful questions?
2. Practice, Practice, Practice
Interviews can feel awkward and increase anxiety in a job seeker. A virtual interview doesn't decrease the awkward feeling or the anxiety, it actually does the exact opposite. The best way to combat your nervous feelings is to practice.
Think of some questions you might be asked, prepare 2 or 3 examples from your past experience and practice answering your response until it feels like second nature. The Center for Career & Professional Development offers a tool – Interview Stream – where you can practice your video Interviewing skills with common interview questions. It's free for Peirce students and alumni. Visit Interview Stream.
You can also make an appointment with a Peirce College Career Counselor at 215.670.9202 or careercenter@peirce.edu to sharpen your interviewing skills prior to the day.
3. Dress for the Job You Want
Don't fall into the trap of thinking because you are home that you don't have to dress up. Many jobs have become positions where you work remotely from home. You want to show your prospective employer that you understand how you are supposed to dress for work even from your home office. Get dressed as if you were visiting their office. It can even be an opportunity to wear your best business look.
Your background is also a part of the interview. Try to declutter your background, check your lighting and make sure it's in a well lit room. Make sure your computer's audio works properly so you can hear and be heard. Lastly, try to minimize distractions as much as possible. You may have to tell the others in your home that you will be in an interview to reduce disruptions.
4. Network for Future Opportunities
Another important thing to remember is that while the goal is to get a job, this is also a great opportunity to network and hear about the opportunities employers believe they will have in the near future. Be sure to collect information if an employer is willing to share and get contact information if they offer it. Make an impression and they may contact you when they have more openings.
Peirce College is hosting a Virtual Career Fair on May 26, 2021 from 2 p.m. to 5 p.m. through our Handshake platform. Registration is still open and many companies will be in attendance.
Employers are eager to meet Peirce Students and after a year of uncertainty it's great to hear about their hopes for the future. Make sure you are a part of the revitalization of the professional industries.
© 2021 Peirce College. All rights reserved.