Meet the Class of 2021 Student Commencement Speaker: Carl McKenzie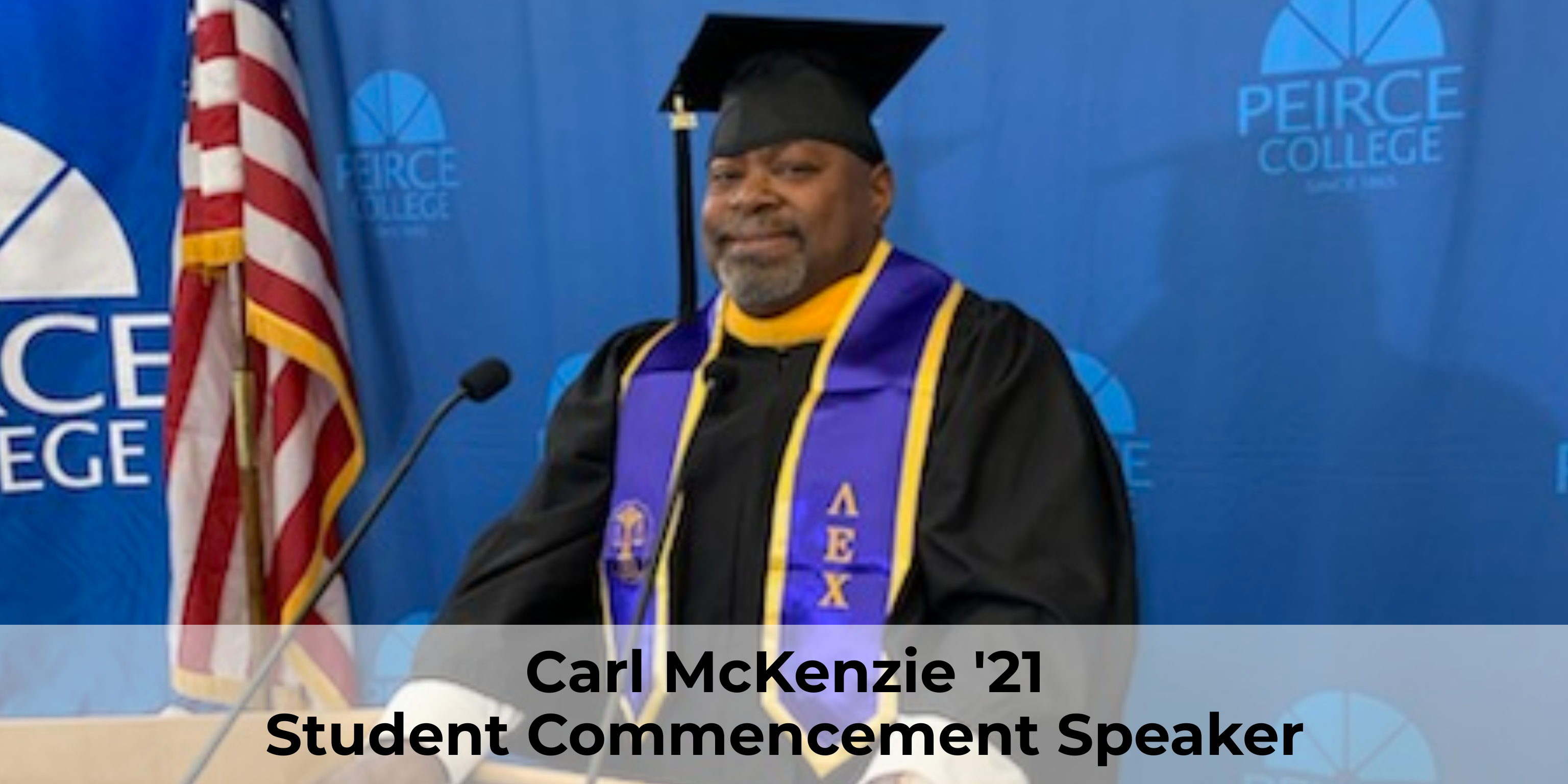 Meet the Class of 2021 Student Commencement Speaker: Carl McKenzie
While working as a Bankruptcy Clerk for PGW, it was brought to Carl McKenzie's attention that he had a skill set for the legal field. After being counseled by an attorney to look into the path of becoming a Paralegal, Carl recognized his desire to improve and grow in his education and career. With additional encouragement from his colleagues, Carl began looking into associate degree programs.
Carl's wife, Cheryl, was a proud Peirce College graduate from 1998, so he began his search at a place they knew. Carl discovered Peirce College's Paralegal program was approved by the American Bar Association (ABA), which is a program credential most employers look for when hiring. This, paired with Peirce's focus on the working adult, sold Carl and he enrolled in Peirce College's Associate in Science in Paralegal Studies program.
During his associate degree journey, Carl decided he was eager to keep going and earn his bachelor's degree to continue to advance his career to the best of his ability. He finished his associate degree in December of 2018 and seamlessly transitioned into Peirce's Bachelor of Science in Paralegal Studies program.
Carl said during his time at Peirce in his associate and bachelor's degree journeys, he gained, "skills to hold my own as a first-rate Paralegal. I gained a supportive network of contacts and always felt the College was in my corner going above and beyond to assist me."
Carl expressed how much he loved his entire process with Peirce College, especially the, "interactions and diversity." Beyond loving his experience, though, he said going back to school as an adult helped tremendously. He said, "As an adult, I was much more balanced and able to accept constructive criticism. I knew the importance of assignments; I knew when I needed help; I knew I was not a failure when I needed to reach out for help. The younger Carl was just not up for the task."
As Carl approached the end of his degree journey, Carl had one more big accomplishment before the final destination. Carl was named the 2021 Student Commencement Speaker. Carl shared his story, experience, and advice with the Class of 2021, friends and family on Thursday, June 10th during the 156th Commencement Ceremony.
Carl said, "I was so floored to be chosen. It was an extreme honor and I was very humbled by the fact that I was able to orate a message to my graduating class. It still brings a big grin to my face and I still go back to rewatch it."
If you'd like to watch Carl's speech, check out the full commencement recording on Peirce College's YouTube page.
In addition to being the 2021 Student Commencement Speaker, another exciting part of the 156th Commencement for Carl was he had the opportunity to graduate with his sister-in-law, Rhonda Smith. Rhonda earned her Bachelor of Science in Business Administration.
As Carl reflects back on his time at Peirce, he provides advice to others. He said, "If you are thinking about it, then it is the time to do it. It is never too late to improve your station in life."
And Carl's inspiration was heard right at home as his wife Cheryl will be returning to Peirce to earn her Bachelor of Science in Business Administration.
Congratulations to Carl on all of his accomplishments!
© 2022 Peirce College. All rights reserved.