Two Degrees & Three Daughters – Meet Kiana House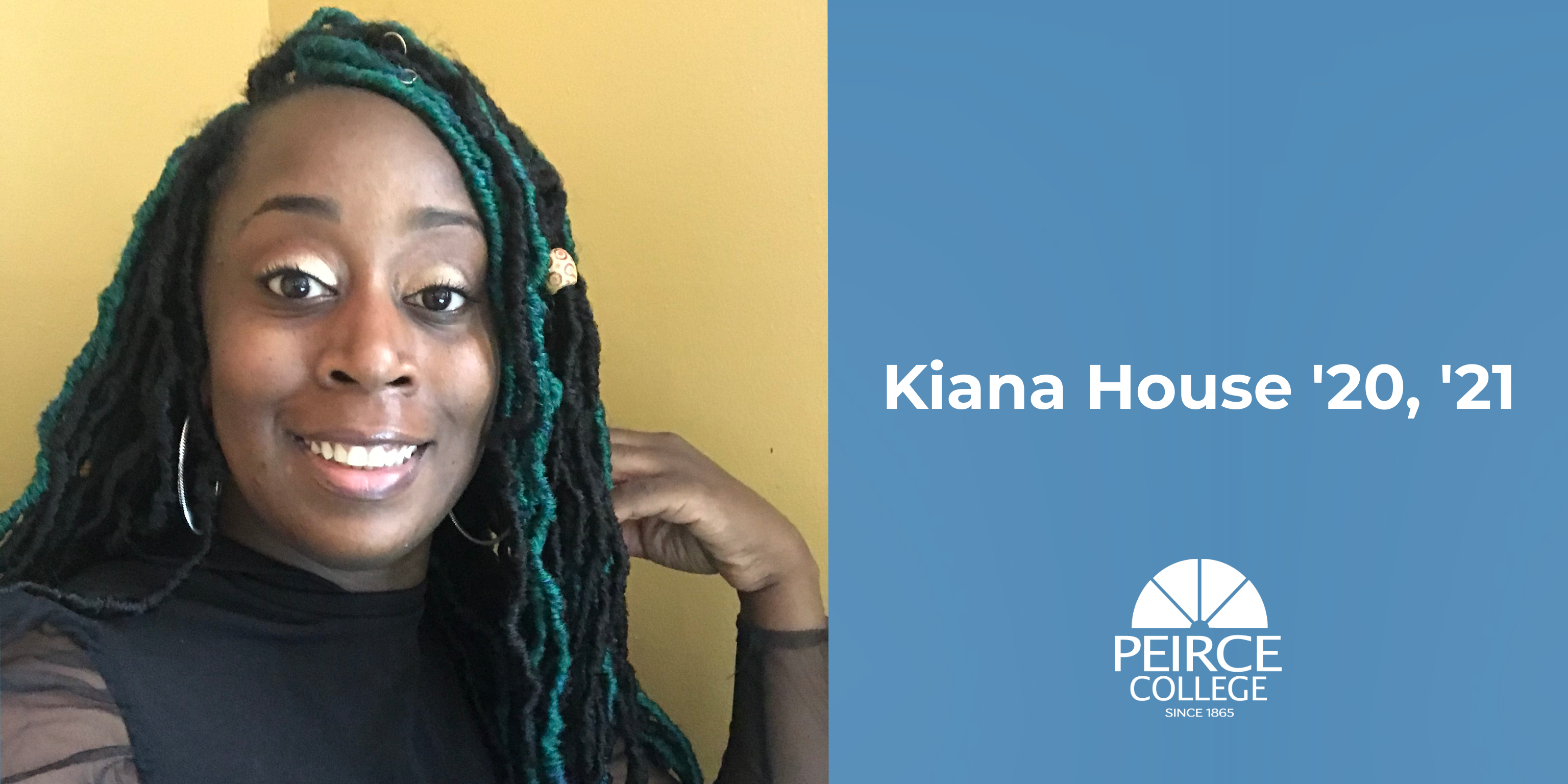 Two Degrees & Three Daughters – Meet Kiana House
Back in 2013, Kiana House was looking down at her pregnant belly as she envisioned bringing her first child into the world. At that moment, Kiana decided she wanted to change her life, so she could move up in her career, earn more money, and support her growing family. Inspired by her first child, Kiana started to look into going back to school.
"When I graduated high school in 2003, going to college was a joke. I didn't care if I passed or failed," explained Kiana. "Then, when I became pregnant in 2013, I realized it was no longer just me I was caring for. I was now a parent and more importantly, a role model. Everything you do in life, your kids look up to and I was determined to be a better parent and role model, so all my children would know that anything is possible."
After hearing about Peirce College from a friend who is a Peirce alumna, Kiana looked into what the College had to offer. She discovered Peirce focused on working adults and as a single mother, she knew this was a school that could support her. "One main reason Peirce caught my attention is the focus on the working adult. I could continue working, raising my family, while also going to school. This was extremely important as a full-time mother and employee," said Kiana.
Kiana entered Peirce with 12 years of experience in human resources. She originally was focused on earning her bachelor's degree in human resource management (HRM). She explained, "At my job at the time, I kept noticing on job listings that the only way to move up was to have a degree. I originally aimed for my bachelor's, but during my first year at Peirce, I noticed some job listings asked for an associate or higher. So I decided to focus on my associate degree first, so I would have at least one degree sooner and then move right into the bachelor's program."
Kiana did just that. In 2019, Kiana completed her Associate in Science in Business Administration and seamlessly transitioned into the bachelor's program for HRM. At this point, Kiana had welcomed some new inspiration into her life and she was now a full-time student and a mother of three daughters.
"At the time of my bachelor's degree, I had three daughters and one was in school. It was a great experience to be in school at the same time as her because I could inspire her to keep going and teach her life lessons," said Kiana. "For example, I used to be afraid of asking questions and I noticed she was feeling the same way. I was able to show her how I ask questions in my classes, which inspired her to do the same."
As Kiana balanced motherhood and school, she was able to excel in her classes and create lasting memories with the professors and her classmates. "I love Peirce so much because the material is created for the real world and the professors are extremely supportive and understanding," expressed Kiana. "One time, I was about to give a speech and my youngest daughter started to cry. Professor Chris Nosal was extremely supportive, allowing me to change my speech schedule, so I could care for my daughter, with no penalty. That is the kind of help you will receive as a Peirce student."
No matter what obstacles Kiana faced, she continued to persevere, and as of June 2021, Kiana finished her Bachelor of Science in Human Resource Management and earned her second Peirce degree.
Now, with two degrees Kiana proudly works for a pharmaceutical company as an HR Analyst.
Congratulations to Kiana!
© 2022 Peirce College. All rights reserved.