AHIMA Merit Scholar and Full-Time EMT: Meet Theodore Jung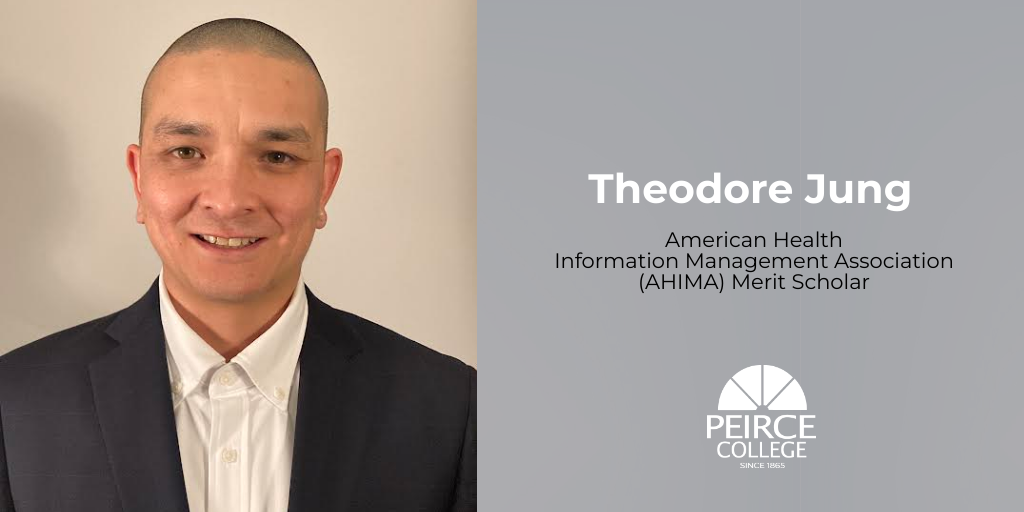 February 24, 2022
0 Comment
AHIMA Merit Scholar and Full-Time EMT: Meet Theodore Jung
Theodore Jung is many things: a certified emergency medical technician (EMT), an American Health
Information Management Association (AHIMA) merit scholar, and a dedicated bachelor's degree
student. A few years ago, as he thought about what his future holds, he decided he wanted to move into the field of
medical coding and found Peirce College's Health Information Administration (HIA) degree to be just the
right program to help him transition.

Theodore's journey to Peirce began in a coding class at Community College of Philadelphia (CCP), taught
by Dr. Jamie Loggains, Program Manager and Associate Professor of Health Programs at Peirce and an
adjunct professor at CCP. The course – and Dr. Loggains – are what initially piqued his interest in Peirce.
After graduating from CCP, Theodore began his search for a school to complete his bachelor's degree.
He remembered his conversations with Dr. Loggains about Peirce's focus on working adults and the
College's extensive resource library and decided to apply to the Health Information Administration
program.

"I really liked that there's a physical campus in Philadelphia, and that Peirce also offers the flexibility of
online course schedules," he said. "I also enjoy that there is real support. There is a very personal
approach that the College takes toward students that is unique in higher education."

In addition to the support he receives from Peirce, Theo has his husband, Ted Rees. Ted is an author and
educator, who just published his third book, Dog Day Economy.
"As an academic, he appreciates that one needs to take time to understand the material at hand and is very respectful of my needs around school and work," said Theodore.

As a full-time EMT, an active member of his community, and a husband, attending a school that fit with
his demanding schedule was imperative. Even more so, because of his role as an essential worker who
helps people in crisis, he faces unique challenges to balancing work and school.

"After a long day of helping people who are in crisis, seeing things that are traumatizing or sometimes
people's last moments, getting home and making space to learn can be hard," he said. "It can be difficult
to switch gears from intense EMT mode to intense study mode. But I think that the idea of kindness is
very important – both to other people and being kind to myself. I find that it's ok for me to take breaks
and practice self-care, but it's also important to come back to the work that's challenging."

Through these challenges, he has found time to not only excel in his studies but also earn an AHIMA
Merit Scholarship. The AHIMA scholarship will help him fund his studies as he pursues his certifications
as a Registered Health Information Technician (RHIT), and a Certified Coding Specialist (CCS).

However, the AHIMA scholarship has offered Theodore more than just financial help.

"The scholarship has put me in contact with many people who work at AHIMA," he said. "I've been able
to speak with them about my goals and establish professional contacts."
With about a year left in his degree program, Theodore is ready to tackle the challenges that come next.
"I'm looking to be a professional medical coder, but because the field of HIA is expanding, there are a lot
of possibilities," he said. "Right now, I'm working in clinical, so I have a direct knowledge of medical
terminology and some real-life experiences related to what the textbooks are talking about. I want to
pivot that into something that I can use for the future. I believe HIA is the way to do that."

And for all his fellow Peirce students and the working adults considering going back to school, Theodore
has some advice.

"Find your allies," he said. "Find your allies and keep them close to you. They will help you when you are
down and need motivation. Whether it's people from church, your biological family or your chosen
family. Find the people who tell you, "I'm rooting for you" and "follow your dreams". When you're
having a hard time getting through something – a chapter, a test – those people are key."
Congratulations, Theodore! Keep up the good work!!!
© 2022 Peirce College. All rights reserved.