Frank Brodsky – Peirce Supporter, Mentor, and Community Activist
Frank Brodsky – Peirce Supporter, Mentor, and Community Activist
Frank began his journey at Peirce College, then known as Peirce Business School, in 1951 after graduating from Overbrook High School. Peirce was referred to Frank through a close friend, who was attending Peirce, who thought the business school would be a good fit for his goals.
After looking at the curriculum, Frank decided to attend Peirce and enrolled in the Business program to gain the proper skills to take over his family's business. During his time at Peirce, Frank gained knowledge from many of his courses but feels that the most important class he took was public speaking.
"I never had an opportunity to speak publicly before," he said. "During that class, we were required to speak about different topics and it really changed my life to be able to speak comfortably during any situation."
In April 1951, not long after he started at Peirce, Frank was drafted into the Army, where he trained and held positions as a Unit Supplies Specialist and Supplies Records Specialist. Frank excelled and graduated 1st and 2nd in his class in these areas and he contributes his great military standings to the education he received at Peirce.
During his time in the military, he was stationed in Korea and Japan, and he received an opportunity to join an organization called the Special Category Army with Air Force (SCARWAF), where he worked in the brigade headquarters. Frank ended up working in the supplies and logistics department, and was able to excel due to his business education.
Upon returning home, Frank joined his family's business specializing in automobile upholstery. He began working in the office but quickly realized his knack for sales and speaking with customers. Once again, he credited the courses he took at Peirce – such as corporate finance, law, and accounting – as key assets in his ability to thrive in his family business.
In 1956, he started an investment business and continued in that field for more than 65 years.
"I've been able to help change people's lives through my investment business because of the education I received at Peirce," said Frank.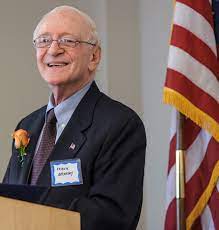 After getting into the world of investment banking, he was invited back to Peirce by his very good friend and Peirce alum Raymond L. Palzer. Mr. Palzer knew of Frank's journey, accomplishments, and his passion for Peirce and asked him to speak to the students in the business program. Frank returned several times to speak to students about his journey and provide guidance on their futures. One piece of advice he always told his mentees? "If it is to be, it is up to me," meaning that other people aren't going to do it for you, so if you want to be successful and have a rewarding career, you have to take risks and make it happen.
In 1986, Peirce honored Frank Brodsky and added him to the wall of fame, currently displayed in the Lobby of College Hall. Gradually, he became a mentor to Peirce students by teaching them what he learned and how he applied them to his life. Although he never graduated from Peirce, he gained so much knowledge and attributes his education from the College to the success he's had throughout his life.
"My education at Peirce changed my life," he said.
Frank has continued to remain active in the Peirce community because of his desire to help students get ahead and make the most out of their education, and served for many years on the Advisory Council for the Business Department.
Outside of Peirce, Frank remains active in the community. He has invested countless hours as a leader in charitable endeavors, particularly in the Jewish community here and abroad. He also serves on the advisory board for Opportunity Industrialization Center (OIC), which assists members of the Black community with access to education and employment opportunities.
Frank's advice to current Peirce students? "Don't be afraid to fail."
"Don't worry if you did not get the job you want; keep applying, stay persistent, and continue to build your knowledge in your field," he said. "You will achieve your goals."
© 2022 Peirce College. All rights reserved.