A full-time Information Technology specialist, an IT Bachelor's degree and honors student: Meet William Kaisla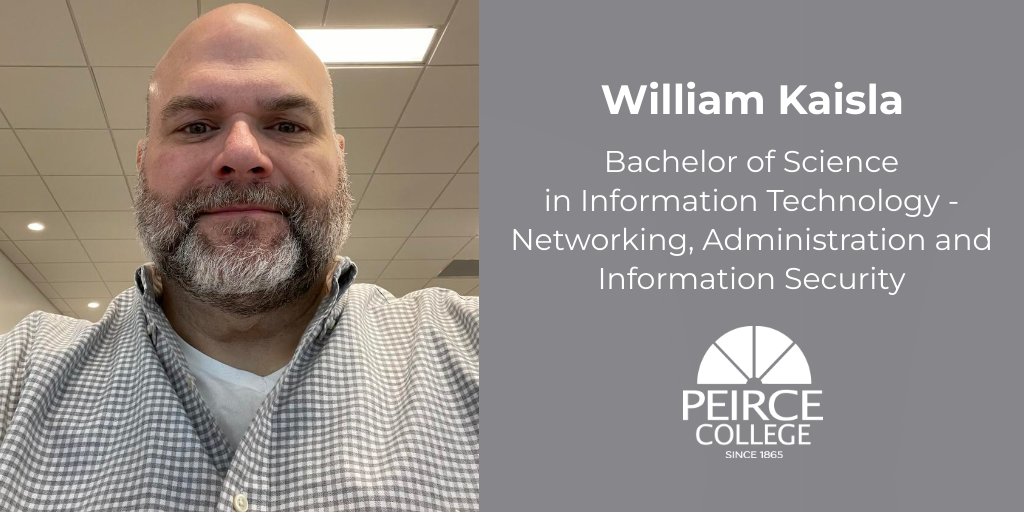 August 18, 2022
0 Comment
A full-time Information Technology specialist, an IT Bachelor's degree and honors student: Meet William Kaisla
William "Bill" Kaisla is a full-time Information Technology specialist, an IT Bachelor's degree and honors student, and has overcome educational challenges through the help of Peirce College.
After losing his job of 24 years, Bill began looking for new employment opportunities. He started working with an insurance company and worked to earn a specific insurance license. However, once he passed the licensing exam, he still did not feel satisfied with his job. He decided to go back to school and began to research colleges that are flexible and fit his busy schedule. He started taking a few summer classes at Northampton Community College, and then applied to colleges specifically for adults returning to college, leading him to Peirce College.
Starting his journey at Peirce in the fall of 2018, he enrolled in Peirce's Associate in Science in Information Technology degree program. In his previous attempts at attending college, Bill encountered a number of issues which created some hesitation for him about going back to school. But after speaking with his advisor at Peirce about his challenges at other schools, she suggested some testing options which led to the discovery that he has a learning disability. With this realization, he was able to receive treatment, which helped him earn his associate degree in 2021, with a GPA of 3.9 and honors.
"Discovering my learning disability at age 49 helped me gain a lot of self-understanding and self-confidence, and the treatment has helped me be successful," said Bill.
After graduating, Bill realized that he was not yet finished with college. He decided to continue his education and is currently earning his Bachelor of Science in Information Technology, with a concentration in Networking, Administration and Information Security.
Bill describes his experience at Peirce as enlightening and filled with hard work.
"It has been a very positive experience, a much better experience than the one semester I spent at a previous college," he said.
Bill now works as a full-time IT Service Desk Analyst at Vanguard. Once he completes his bachelor's degree, he hopes to remain working in IT and experiment with different roles to see what position aligns best with his professional goal.
And for all his fellow Peirce students and the working adults considering going back to school, Bill has some advice, "If I can do it, anyone can do it."
"You just need to make the time and prioritize. But be warned, you might not have much of a personal life until you're done."
Congratulations on all of your accomplishments, Bill!
© 2022 Peirce College. All rights reserved.