Full-time IT professional, first generation immigrant and Peirce Class of 2022 graduate: Meet Julio Acosta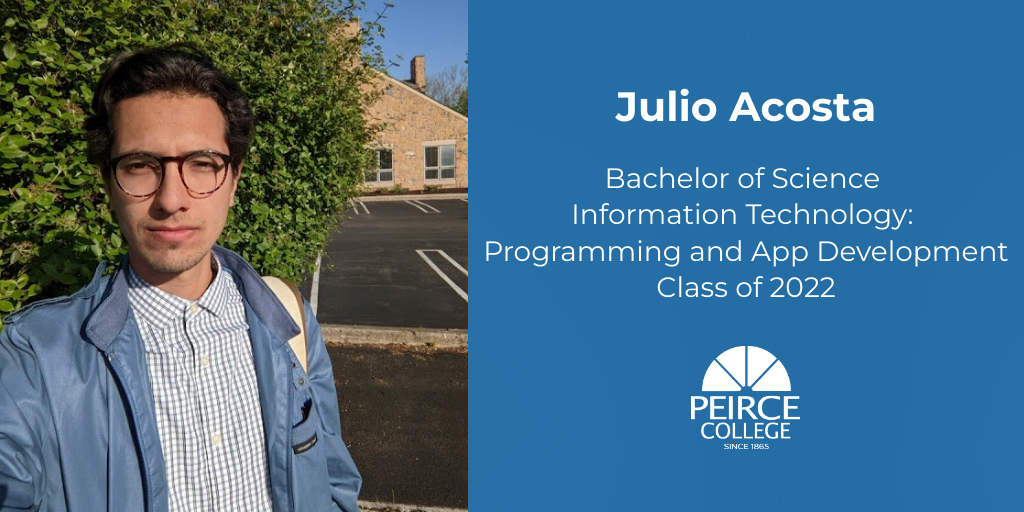 Full-time IT professional, first generation immigrant and Peirce Class of 2022 graduate: Meet Julio Acosta
Julio Acosta is a full-time IT professional, first generation immigrant, and a Peirce graduate, who leveraged his prior learning and self-motivation to earn his bachelor's degree and make a career change into the Information Technology field.
After graduating from high school, Julio attended college but took a break to decide what career path he really wanted to pursue. During that time, he worked multiple retail and sales jobs but never felt satisfied. While growing his career in retail, he discovered his passion for software and gadgets and decided to make a career change to IT.
Julio discovered Peirce's IT programs while attending the Community College of Philadelphia (CCP). He searched for a college that would provide him with the foundations of programming and make the process of transferring his credits as easy as possible.
"I found that Peirce provided a clear path forward," he said. "By choosing Peirce, I knew that all of the credits I earned at CCP would go toward my bachelor's degree and no other school with a continuation program could guarantee that."
After graduating from CCP, he began classes at Peirce in the fall of 2020. Thanks to Peirce's generous transfer credit policies, he was able to transfer 90 credits from CCP and his previous college experiences toward his bachelor's degree in Information Technology: Programming and Application Development.
Returning to school with a clear goal in mind allowed Julio to take a more focused approach, but it wasn't without its challenges. As a full-time essential worker at the height of the pandemic, he was faced with balancing work and school in an unprecedentedly stressful time. However, because of the flexibility of Peirce's online courses and the option to take classes through Study.com, he was actually able to finish his degree faster – saving him time and money!
"Being able to take classes with Study.com was great because I was able to add classes, in addition to my full course load at Peirce, helping me graduate earlier," said Julio.
Julio describes his experience at Peirce as nothing but positive. "Peirce was everything I needed it to be, and as an older student I didn't want the college culture that more traditional schools offer," he said. "I was able to focus on academics, reach my goals quickly while having the flexibility to continue working full time as I earned my degree."
Additionally, because of the engagement of the professors on Zoom and their constant interactions through Canvas, he always felt supported. While attending Peirce, he was able to gain a much deeper understanding about programming and underlying technologies, which took his appreciation for technology to a new level.
While attending Peirce, Julio also got married and his wedding was even officiated by a Peirce employee! After years of encouraging Julio to go back to school and find a fulfilling career path, Julio's wife, Becca, was motivated to do the same. She enrolled and completed a post-baccalaureate program for nursing at the same time.
"We are both in our early 30s starting new careers and are so glad we did," said Julio.
After finishing his program in December 2021, he landed a job working for an IT managed services provider as a network administrator for multiple small businesses in the Philadelphia region. Moving forward, he plans to continue growing his career in the IT field.
And for all his fellow Peirce students and the working adults considering going back to school, Julio has some advice.
"Do it now. If you feel stuck in your current career and think that it's too late to go back, you're wrong," he said. "The next four years are going to pass by, you might as well work toward something in the meantime."
He goes on to advise, "If you feel like there is no way you can balance school with an already busy work and social life, you're wrong. Peirce's class structure made it an easy fit for school work into my schedule. I didn't have to sacrifice to make it work."
Congratulations on all your accomplishments, Julio!
© 2022 Peirce College. All rights reserved.