A full-time HR professional, proud member of the LGBTQ community, and a 2022 recipient of the Raymond L. Palzer '52 Academic Leadership Award: Meet Lawrence Meehan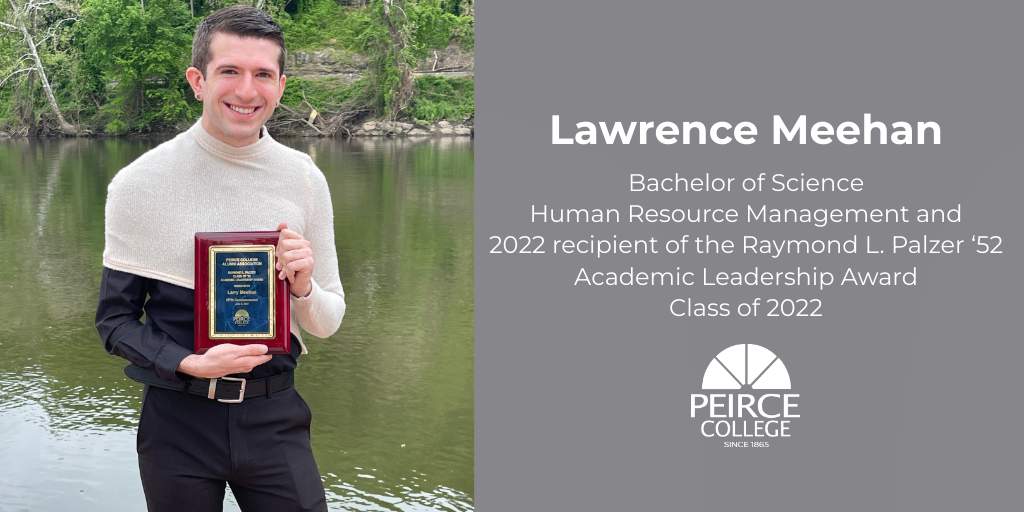 A full-time HR professional, proud member of the LGBTQ community, and a 2022 recipient of the Raymond L. Palzer '52 Academic Leadership Award: Meet Lawrence Meehan
Lawrence "Larry" Meehan is a full-time human resource professional, proud member of the LGBTQ community, and a 2022 recipient of the Raymond L. Palzer '52 Academic Leadership Award. After discovering his passion for human resource management and employee relations on the job, Larry decided to continue his education and enrolled in Peirce College's Human Resource Management program to expand his knowledge and earn a credential.
Prior to Peirce, Larry studied at Bucks County Community College and searched for a college that would fit his busy schedule and help him excel in his field. One of the most important factors for Larry was that his previously earned credits would transfer. After receiving information about Peirce's programs through the corporate partnership with his employer, American Heritage Credit Union, Larry decided to apply. Thanks to the corporate partnership program, Larry received many benefits such as a tuition discount, numerous grant and scholarship opportunities, and an application fee waiver. And because of Peirce's Community College Transfer Articulation Program, he was able to transfer his credits smoothly.
Larry ultimately decided to attend Peirce because of the flexibility for working adults and the noteworthy Society for Human Resource Management (SHRM) aligned Human Resource Management (HRM) program curriculum.
Larry started at Peirce in March 2018. He first completed his Associate in Science in Business Administration and then enrolled in the Bachelor of Science in Human Resource Management program. In June, he will walk at Commencement as a proud member of the Class of 2022!
However, getting graduation wasn't easy. As a student and working professional, Larry constantly had to balance his busy life and conquer his fears.
"I battled insecurities over not graduating by what some consider to be the 'traditional age,'" he said.
Through the program, Larry says he has gained the competencies and confidence needed to succeed and expand as an HR professional. After graduation, he would like to continue growing in the HR field, gain new exposure, and work his way up to a management position.
"My overall experience at Peirce has been nothing shy of positive," said Larry. "The support from the faculty and staff has provided me with a newfound confidence."
And for all his fellow Peirce students and the working adults considering going back to school, Larry has some advice.
"While it is okay to fear going back to school and feeling as though you can't, it is never too late to graduate," he said. "There is no normal timeline as we are all on different paths."
Congratulations on all your accomplishments, Larry!
© 2022 Peirce College. All rights reserved.