Healthcare worker, mother of two and senior health care administration major: Meet Faustina Kandeh
Healthcare worker, mother of two and senior health care administration major: Meet Faustina Kandeh
As an experienced healthcare worker, mother of two and senior health care administration major, Faustina Kandeh was recently featured in the Health Programs Student Association Student Spotlight.
After graduating high school in 2009, Faustina Kandeh knew that she wanted to work in healthcare. She started her career as a staff member in nursing homes and assisted living facilities, working mostly with geriatric patients. But a few years ago, she found a job on the administrative side of healthcare with Penn Medicine, which is a dream come true for her.
Faustina previously attended a higher educational institution but wanted to continue her education, so she decided to apply at Peirce. Her main reason for returning to school as an adult? Being a good role model and setting an example for her two daughters and providing them with a good life full of experiences and good memories. However, she also returned to school for herself – to increase her earning potential and to gain career advancement.
Faustina started her journey at Peirce in June 2019. She learned about Peirce College after doing research on schools that would be the best fit for her as an adult learner. As the mother of two daughters, attending a college that is tailored to adult learners that would allow her to complete her degree and balance her responsibilities was essential. She also had a checklist of needs that a potential college had to meet:
Transfer friendly
Accredited
Affordable and provide good financial assistance
Small college with a long standing and reputable history
Peirce had all of the characteristics she was looking for and Faustina was able to transfer her previously earned credits directly to the Bachelor's in Healthcare Administration program.
"Peirce was and still is a good fit for me," said Faustina.
Additionally, one of the things Faustina has found most helpful as she pursues her degree is Peirce's online learning structure and all of the staff who provide the help adult learners need as they balance careers and family while attending college.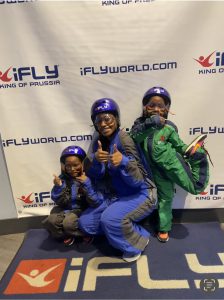 "My professors were always readily available to help," shared Faustina. "Even all of the staff (Financial Aid, Library, Career Center, etc.) who I've had to deal with in one way or another have been very helpful."
So, how does she stay focused and motivated with all of life's distractions? Her daughters.
"My proudest and greatest accomplishment to date is being a mother to my two daughters," she said. Knowing that pursuing an education can assist in providing a comfortable life for them provides her with the motivation she needs to to keep going and the extra push she sometimes needs to be great.
After graduating with her bachelor's, Faustina plans to continue her education and obtain her Master of Science in Healthcare Administration. After completing her master's degree, she hopes to work for a large healthcare system and relocate to Maryland to work at John Hopkins University (Baltimore) as a Clinical Administrator. She also hopes to learn as much as she can here in the United States and take some of that knowledge back to help in Sierra Leone, where her family is from.
Faustina's advice to fellow classmates and current students is to Remember your why!
"Some days will be difficult, but the end reward is worth the sacrifice," she said. "Set clear goals, stay organized, and network as much as possible. Remember to always take time to breathe and take care of yourself along the journey."
Congratulations on all of your accomplishments, Faustina!
© 2022 Peirce College. All rights reserved.