A mother, healthcare worker, author, & master's degree student: Meet Francheska Santiago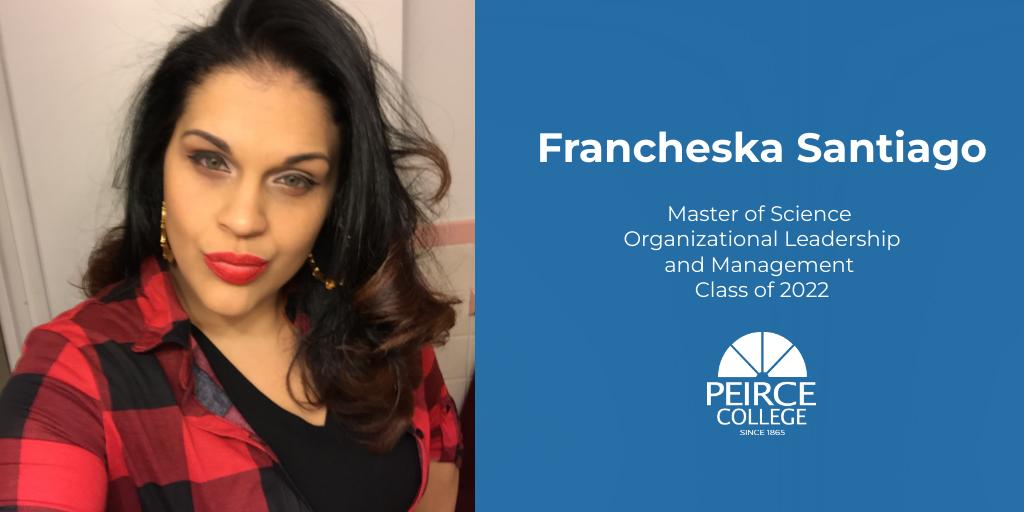 A mother, healthcare worker, author, & master's degree student: Meet Francheska Santiago
As a full-time healthcare worker, mother, master's degree student, and published author, it's only fitting that Francheska Santiago was recently featured in the Health Programs Student Association Student Spotlight.
As a teen mom growing up in a challenging neighborhood, Francheska was determined to push herself to be the first member of her family to graduate from college and provide a better life for her daughters. After graduating from Kensington High School, Francheska began her journey into the healthcare field with a certification as a nursing assistant and then graduating with a diploma in Pharmacy Technician. Once receiving her certifications, she worked in all avenues of healthcare, including administration, conducting physicals, insurance verification, and compliance.
While working and being a mom full-time, Francheska decided to further her education and began pursuing her Bachelor of Science in Healthcare Administration at Peirce College.
In 2020, with hard work and dedication, she graduated with her B.S. in Healthcare Administration and then decided to continue her education even further and enrolled in graduate school at Peirce. She is currently completing her last three courses in the Organizational Leadership & Management (OLM) program.
In addition to all of her responsibilities, Francheska has also written and published a book, Spread Your Wings and Fly Butterfly, which she says is one of her greatest accomplishments to date.
"The purpose of writing this book is to motivate and inspire people," said Francheska. "The book is based on my life journey, the good, the bad and the ugly. I want people to know that they are not alone, and despite our upbringing and/or the struggles in life, you are the captain of your ship."
How does Francheska accomplish all of this? She makes time with a cup of coffee and a journal to reflect and set goals every day. Doing so helps her stay accountable.
In her current position as a Delegation Oversight Contract Coordinator, she has been able to use what she has learned in the OLM courses to make leadership decisions. After graduating Francheska would like to pursue a career in a leadership role.
"I also would love to work with organizations where I can showcase my book, do some motivational speaking, and empower women to pursue their dreams," she said.
Francheska's advice to fellow classmates and current students is to NEVER GIVE UP ON YOUR DREAMS. "There is not a dream too big or too small," she said. "You are never too old to pursue your dreams."
She also credits Peirce for how the College has supported her throughout her education journey. "Peirce has been amazing. They are there to help you! They want to see you succeed."
Lastly, she recommends that students search and apply for scholarships and financial aid. "The money is out there and available, you just have to look for it," advises Francheska. "Speak to financial aid at Peirce and see what you can qualify for."
Congratulations on all of your accomplishments, Francheska!
© 2022 Peirce College. All rights reserved.